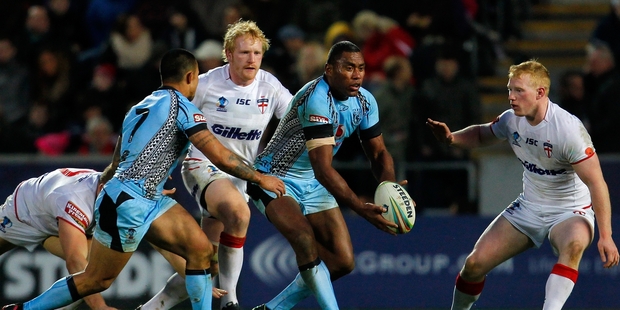 It doesn't have playing numbers throughout the world, there are not many countries with viable competitions (if at all) but there is no reason why rugby league cannot stage a credible World Cup.
There are many with an opinion that it's a waste of time and just a tournament filled with Australians, Polynesians and New Zealanders. So what? There have been some very good games and despite scorelines blowing out, those same games have been extremely competitive and entertaining.

It is the countries represented that matters, not who is in the teams. There seems to be a policy of slating rugby league by individuals who have not got much to talk about and the need to fill some space. We complain because there is not enough competition on the international stage and then, when it is provided it in bulk, there is nothing but ridicule.
Yes, there will always be the big three teams in the semifinal, but many sports have a similarly clear forecast of their World Cup finals. The sport is limited in resources to expand like others and the reasons are confined within the boundaries of two states of Australia (that's another topic) - but accept the competition for what it is: an entertaining package with the hope your team progresses further.
As far as a competitive tournament goes, this one has been great. The lower profile teams performed better than expected but more surprising is those that should have progressed further.
The performances of the Samoan and Tongan teams could only be stated as disappointing. The Papua New Guinea team was one with a number of NRL players and a coaching team with vast experience, but it also did not display the quality required to play tournament football.
Expecting to qualify by merely playing and going through the motions is fraught with danger. This displays the psychological application of individuals who look at their qualifying position while under-estimating their opposition.
All three could possibly be guilty of this and it's a harsh lesson to learn, especially when lesser teams embarrass them in defeat. Last week's quarter-final loss to Fiji was unexpected and Samoa must feel a little humiliated when comparing the two team lists. Yes, there was emotional incentive by the Fijians in respect to Petero Civoniceva and his last competitive games but Samoa should have found their own stimulation.
Whatever the result of this morning's fixture between the English and Kiwi team, it will be won by the one with the stronger incentive to perform. Either way it will not be to appease the critics of the Rugby League World Cup.
If the Americans can have their World Series for baseball with only one country involved, Rugby League can have its World Cup with three countries fighting to win it.