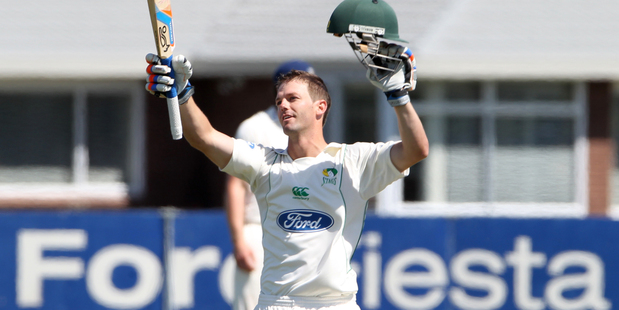 As cricket 'situations vacant' go, it's an intimidating one.
"Opportunity available for No 3 batsman to play one test for New Zealand, preferably contributing a swag of runs on what could be a tricky first morning Dunedin pitch. No guarantee of further selection."
That is the prospect awaiting Kane Williamson's expected replacement for the first test against the West Indies starting Tuesday week.
A host of contenders will clamour for the role. Some will be buoyed by enthusiasm after a month of sporadic Plunket Shield encounters. Others might be jaded by the ennui which can seep in after a seven-week tour through Bangladesh and Sri Lanka (and India too for those on the development tour).
Williamson's broken left thumb means Dean Brownlie, Carl Cachopa, Martin Guptill, Tom Latham, Jeet Raval and Aaron Redmond come into the reckoning. Selection manager Bruce Edgar indicated Jesse Ryder has decided he wasn't ready for consideration despite two centuries in as many first-class matches.
Ryder appears to have lost little of his natural ability despite myriad setbacks - and suffered another with a knee injury which blocked any participation in the three-day match between New Zealand XI and the West Indies, beginning Wednesday, anyway. The best indication as to who will fill in for Williamson should come from this week's tour match between the New Zealand XI and the West Indies (although Raval and Redmond will be opening for the tourists, which says a lot about first-class tour matches these days).
Brownlie appears a band-aid solution at first drop if Ross Taylor or Brendon McCullum do not press up to create space at No5. The 29-year-old has never batted at No3 in a test and his form slumped in eight innings against England last summer (164 runs at 20.50). There is no doubting his courage after scoring his maiden test century at No4 to give New Zealand a sliver of credibility in the second innings after the '45' horror at Cape Town - but he struggles outside the hard, fast wickets of South Africa and Australia (10 innings, average 45.78) compared to anywhere else (15 innings at 19.93).
At this stage last year, Cachopa was the form No3 in the Plunket Shield and was about to score his third century in four matches. He hasn't shone as much since but gets a chance to prove himself when Central Districts play Northern Districts at the third New Zealand-West Indies test venue of Seddon Park starting Tuesday. Cachopa scored a century and averaged 43.66 on the subcontinent development tour.
Guptill presents a conundrum given his sharp contrast in form between white and red balls on the England tour. He has returned after ankle and finger surgery to make 85 and 12 in a four-day outing opening for Auckland but whether he is suitably match-fit is moot. He prefers to open but, if Taylor and McCullum were to shift, the 27-year-old has looked comfortable at No5, including a career-best 189 against Bangladesh. He averages 68.60 in the position which also included a 58 against Australia in March 2010. The prospect of a roughed-up red ball could suit. Alternatively, Guptill averages 35.40 in five innings as a No3. The fact he is accustomed to seeing the new ball might make him the ideal stop-gap.
Elsewhere, the opening partnership between Peter Fulton and Hamish Rutherford is worthy of perseverance but needs consistency to reinforce some initially compelling statistics.
Fulton and Rutherford averaged 40.83 runs together in 12 innings against England and Bangladesh. Compare that to the revered combination of John Wright and Bruce Edgar who averaged 31.82 runs in 56 innings from 1978 to 1986 - albeit against Australian and West Indian attacks in their pomp. On that evidence, the incumbents deserve their spots.
Still, there are question marks. Fulton looks comfortable on relatively flat tracks (such as Eden Park, where he scored two centuries last summer, and Chittagong) but struggled against the seaming ball in England (36 runs from four innings).
Rutherford has not passed 42 in the 11 innings since his century on debut in Dunedin. He exudes left-handed elegance early - there are shades of Justin Langer - but temptation is triumphing, often outside off stump, when he gets a start.
Latham is yet to make his test debut but is viewed as a contender if there are problems. His provincial record (average 35.95 in 30 matches) is yet to fulfil its age-group promise but he has shown aptitude in the New Zealand one-day XI. Latham, as captain of the New Zealand A side, recently made two half-centuries and averaged 35.40 in three 'test' matches against equivalent opposition from Sri Lanka and India.
Raval is pushing a case to open with two centuries in the early season upon returning to Auckland. The 25-year-old has averaged in the mid-40s over the last two seasons. His strokeplay looks assured with his tall frame leaning easily into drives and supple wrists enabling him to work the ball well off his pads. Raval is bound to be considered if there are further significant injuries. He must have been close to inclusion for the development tour.
Redmond is another closing in on a recall after playing his last test for New Zealand five years ago. The 34-year-old vied with Fulton for a return last summer where he finished with three centuries and an average of 55.35 across 10 matches. The fact he is older than other contenders and has already been tried in seven tests might be a hindrance.