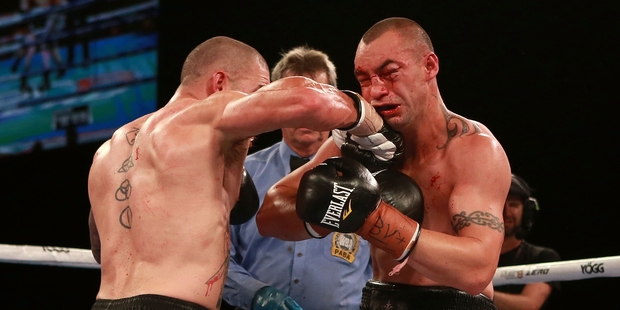 It's been a week of retirements - Ricki Herbert, Sachin Tendulkar, David Tua and, on a forced basis, Daniel McKinnon, the light heavyweight on the Tua-Alexander Ustinov undercard who fought that 'war' with Robbie Berridge.
McKinnon's retirement came courtesy of that bloodied, bruising bout with Berridge, marketed as a grudge match and having every appearance of being so. In the shower afterwards, McKinnon, 30, complained of head pains and was rushed to hospital; he had a scan, then brain surgery and everyone feared the worst until he started to make what seems to be an amazing recovery.
It's a relief. His surgery brings home, even to we diehard fight fans, boxing's cruel by-product.
It is essentially an indefensible sport. I never win the debate with my anti-boxing wife. She always plays the winning card - that it is the only sport in the world where the athletes deliberately set out to hurt each other. She's right.
Yet I love boxing; the science of it and the athleticism and the mano a mano spartan simplicity of two men, stripped of everything except their shorts, technique and will to win. My favourite boxers are Muhammad Ali and Sugar Ray Leonard. They are technicians, not Tysons.
Yet I'm not being entirely honest. I, like all fight fans, also watch boxing for the knockouts, for the brutality. It's a strange human paradox. We like watching others commit mayhem on each other. It's not just boxing. Motor racing fans watch for crashes. League and rugby fans love the big hits and a bit of biffo. I can't even begin to explain the mysteriously popular appeal of cage fighting and other forms of MMA unless it is the primal urge of 'hurt or be hurt'.
There have been calls to ban boxing but they make no sense. Quite apart from freedom of choice, that would also call into question base jumping, sky diving, underwater diving, motor racing, luge, mountaineering and so on. Extending that logic, we would ban cars and air travel.
But maybe we can do more to help boxers. Its greatest hero, Ali, embodies the horrible suspicion that his Parkinson's is caused by the hammering he took, particularly late in his career when some of that silky movement and speed had left him.
There are other more recent examples. Magomed Abdusalamov was left in a coma after a heavyweight bout, losing a 12-round points decision to expat Cuban Mike Perez this month. The Russian (32) asked his corner twice about the state of his face - a question some say should have led to the corner throwing in the towel.
He had a broken left hand, a broken nose and a small blood clot was discovered on the brain. He was placed in a medically induced coma and had suffered a stroke. He is still on life support.
Bantamweight Frankie Leal was dead at 26, from brain injury after a fight last month. Turns out he had been stretchered out of the ring before, had been knocked out four times in losses (he had 20 wins from 31 fights) and was down twice in his last, fatal fight.
There must be some things we can do, like maybe a three-KO rule; three strikes and you're out of the game. It would have saved Leal's life.
Helmets - amateurs wear them for protection; why not pros? The answer is, of course, tied up with money and TV and being able to see the faces, producing a knockout. Boxers learn skills through fighting but take a lot of blows along the way; accumulated stress on the brain causes the problems. That is particularly true of journeymen who never make it to a world title.
McKinnon has fought two who went on to become world champions - the latest the fight before Berridge. How much damage did he take in that 12-round, majority decision against Blake Caparello in July, now the IBO's light heavyweight "world" champion.
Ringside doctors should have the power to stop a fight, even above the referee, if he thinks a boxer is taking too much punishment. In addition, boxers should take compulsory scans and medical examinations every six months. If there is even any slight evidence of brain damage, instant retirement.
Age or fight limits - many boxers do not know when to stop. There could be limits preventing fighting past 40 years of age. Maybe a numerical limit - 45 fights in a professional life. That may also obviate some of the lame matches made to boost a fighter's win record in the hope of a title bout.
Making managers and cornermen financially liable for a fighter's health could see fewer risks taken and fights called off sooner, before real punishment is taken.
De-romanticising boxing - the hardest change of all. Bravery is a macho requirement of the sport. Boxers don't quit during a fight because there is a stigma attached to those who do. They make comebacks because they think they still can. Words like "warriors" are bandied about a lot. Media, promoters and fans are partly to blame for this - a fight like Berridge vs McKinnon is hailed for the gutsy qualities of the fighters. In all honesty, I did not enjoy it as much as others. Someone said it was a candidate for "international fight of the year". Ridiculous. There were not a lot of silky skills on show; neither was a scientific fighter. It was a torrid exchange with neither giving an inch; compelling viewing for many.
We could de-macho things by emphasising skill ahead of bravery. We could de-stigmatise throwing in the towel. Better a live quitter than a brain-damaged warrior. But that is a bigger change than the media; that is trying to quell primal human urge.
So I went to the bank this week and made a donation to the fund for McKinnon. I felt more than a bit hypocritical. I should have felt good about the donation but I walked away knowing that, when the feisty Shane Cameron-Brian Minto fight is staged next month, for example, I will be wanting to watch it.