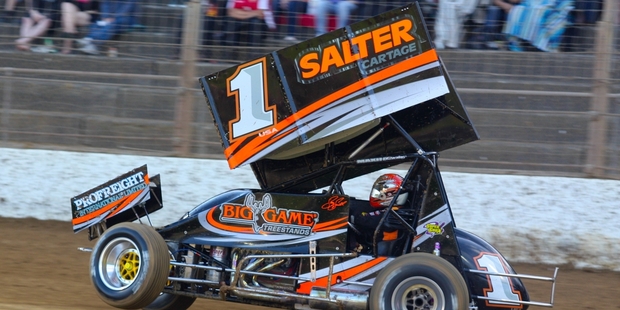 Sammy Swindell is one of the most recognisable names in American motorsport.
In almost half a century behind the wheel, the 58-year-old from Tennessee has raced anything and everything he could get his hands on, and usually won.
Even today, as old as most of his opponents' fathers, he remains at the top of his game, a fiercely competitive sprintcar driver.
Swindell touched down in Auckland this week alongside fellow American superstar Donny Schatz, 36, to challenge the locals at WXC Speedway, Western Springs, beginning tonight.
"I've been to New Zealand to race before and to watch my son Kevin race a midget so I know what to expect," said Swindell, who has also raced Nascar and Champ Cars.
"All I can do is my best. I know the guys down here have done a greatjob getting the car up to speedso I'm looking forward to climbing in."
Schatz is not one to be overawed either, having won the infamous World of Outlaws (WoO) sprintcar series on five occasions. He is also a four-time Knoxville Nationals winner, largely considered the most important annual sprintcar race on the planet.
This year, Schatz has won a career-best 22 WoO features and arrives in New Zealand intending to continue that red-hot form.
"Winning features is why we turn up to race, so in that regard it's been a great year for me," said Schatz, who drives for Nascar's Tony Stewart Racing.
"Hopefully I can keep the train going here in New Zealand and maybe thrill the crowd a bit on the way."
Schatz has also been to New Zealand before and, for the most part, dominated proceedings.
"I really enjoy coming down here, and especially to Western Springs. The crowd and the atmosphere you guys get is incredible compared to the shows we run in the States," said North Dakota's Schatz.
The final American on the grid tonight is Californian Jonathan Allard.
A regular frontrunner at WXC Speedway - Western Springs, Allard has been racing full seasons in New Zealand for a number of years now, and is considering moving here permanently.
"This is a great place to race sprintcars, but also I just loveit down here," he said.
A former New Zealand sprintcar champion, Allard would love nothing more than to beat his countrymen on his adopted turf.
Tonight's event will also include Midgets, TQs, and quarter midgets.Gates open at 4pm with racing at 6.15pm.