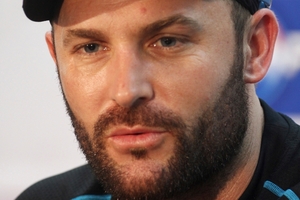 Rarely in his long career has Brendon McCullum faced a summer potentially as pivotal as this.
When the first test against the West Indies starts in Dunedin on December 3, New Zealand will be led by a man who has been among the most brilliant cricketers of the past decade but who is short on runs, battling disc pain in his back and no longer capable of the spectacular glovework which made him a captivating figure on the world stage.
All that said, he remains determined to do right by a group of players he "loves to bits".
But time and stresses have taken their toll. The most recent flare-up with his back - he has two protruding discs pushing on his spinal cord, and some arthritis creeping in - happened in Bangladesh last month.
Coming home, leaving his team behind and in a hole against an increasingly difficult opponent in their own conditions, hurt.
Dark thoughts rattled around his mind.
"Before I went to Bangladesh I was the fittest and strongest I've been and tested off the scales, and still managed to pick up an injury," McCullum said. "There was complete and utter disappointment. I knew it wasn't great.
"That last game (October 31 in Dhaka), I played on pretty heavy painkillers and that's not how the game is meant to be played.
"I was incapable of keeping and was running around like an old man. Knowing I had to leave the tour, leaving the boys behind, was the hardest thing."
He would not go so far as to suggest jacking it all in, but his voice suggests in the grim moments there's a weariness about the whole package, injuries, steering the team, his own form. The back issues are going to be with him for the rest of his playing days, so it's about trying "to put distance between the times it happens and shorten up the recovery period".
Compounding that the runs have dried up. Since the end of England's tour of New Zealand last March, when he was in good form, McCullum has been getting out in ways he shouldn't, not producing the runs he should.
His personal assessment is this: The T20 game is going well, the ODI form was good last summer but has gone quiet, and in tests "I need more runs".
"And as captain I need more runs to have more impact with the message you're delivering to the group. You always want to lead from the front.
"There's huge pressure in the next few tests, not just from the team point of view but the individual as well. I'll certainly leave no stone unturned.
"Let's see how I go and if it doesn't work out we'll cross that bridge when we get to it."
Which segues on to the captaincy. Since taking the job in circumstances which have never been fully explained, at the end of last year when Ross Taylor was removed as skipper, New Zealand have played nine tests, lost four and drawn five.
There have been grim moments but being rolled for 68 in 22.3 overs at Lord's in May, chasing a highly gettable 239 was the lowest point for McCullum.
He remains adamant test success will come, that New Zealand are on the right track, that trying to rejig the structure and personnel once again "we'll go through the same issues we have over the years. We need to have a consistency about it and that's what I'm looking for from us over the next little while".
McCullum kept wicket against England in a test at Leeds in May.
"I blew my back out after about 53 overs when I reached to put a helmet down. I'd love to still be keeping in test cricket but it's just not possible any more.
"I'm just lucky to be able to make the team as a batter, and some people question that, but I haven't picked a team throughout my career," he quipped.
Short form keeping is an area he's cautious about. Luke Ronchi is making a decent fist of the job. McCullum is realistic.
"It's something I've got to look at, and it's not very nice when it's what you've been doing it for a while. It might be either that (finish keeping( or give the game up."
Which brings the final part of this story. He has two children, 9 and 3 and another on the way.
"People think I pick and choose (games to keep wicket) but it's nothing to do with that.
"I've got a 60-year-old back and if I want to be able to lift my kids at 35 it's something I've got to entertain."
McCullum knows there are things he and his family have missed out on in his almost-12 years in the national team.
"It's bloody tough being away from home. I've got kids who've hardly seen me right through their lives and a wife (Ellissa) whose had to bring them up on her own."
Every time he has a bad day at the office, those thoughts jangle about.
Still, he's enjoying the challenge as much as ever, loves his teammates and loves the thought of what his team could achieve "and the small role I could help play in that".
"I believe in this group of players and want to make a difference. Just because I've had a few low scores hasn't changed my thinking. I'm very determined to finish my career in a strong way and leave this team better than when I took over."

Brendon McCullum
Age: 32
Tests: 79 (6th NZ), runs 4513 (5th), average 34.98
ODIs: 220 (5th), runs 4966 (3rd), average 30.46
T20s: 62 (1st), runs 1882 (1st), average 35.5