Guard says champs must make every second count against Townsville.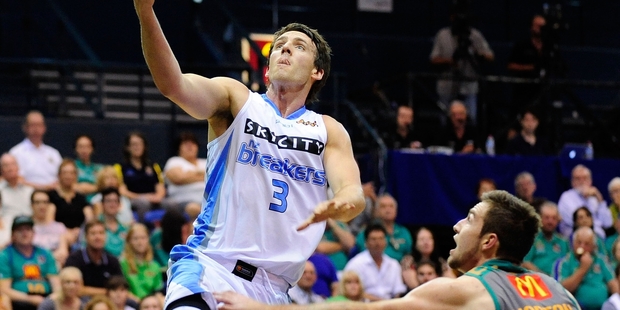 Guard Daryl Corletto says his team need to play "Breakers basketball" tonight if they are to beat the Townsville Crocs.
After two hefty losses to the Crocs this season, the Breakers will be seeking redemption in a bid to turn their poor season around.
However, Corletto believed a win would only be found through utilising every second of each quarter.
"If we play 36/37 minutes at good intensity it's just not enough right now," said Corletto.
"This year, unfortunately, we've been close but we haven't been able to get the win. It's about staying focused. The league is so close and there are so many good teams so we need to play the full 40 minutes."
During the Breakers' last two matches against Townsville, the Crocs have found strong scoring opportunities through Brian Conklin and Josh Pace.
Corletto highlights these players as a key threat and the two people his team will be keeping a close eye on.
"Last time we played them they scored a lot of points through their offensive transition, so we need to get back on defence.
"They've got a couple of players that really stand out so it's about keeping them quiet and making sure we're focused on our scouts."
Although they only having two wins from their eight games, the Breakers know they still have a strong chance of another championship. Coach Dean Vickerman said the players had not let this season's narrow losses get the better of them.
"There's definitely frustration that we haven't closed, but it's to do with our execution," he said. "Our focus the last couple of weeks has been making sure we understand the positions we need to be in and knowing what our preferred looks are toward the end of the game in terms of who we go to."
Vickerman said the team had made improvements and were looking to go one better at North Shore Events Centre.
"We've improved in a lot of areas and we will be a lot better then the last time we played them."
With six rounds of the season played already, Vickerman knows the importance of winning this encounter.
"When you start the season you want to win every series in the league and this is the series that is up for grabs right now. For us to stay alive we have to win it," he said.
And if the team confidence Corletto speaks of can be translated into points, fans may be rewarded with a victory.
"It's about playing Breakers basketball, worrying about ourselves and getting the job done ... we need to play with the effort and energy we had against Adelaide last week."