A few years back when Brian O'Driscoll talked of his belief that Ireland could beat the All Blacks, it was plausible. Even last year it was a valid claim, especially as they came so close in Christchurch.
When he said it on Tuesday, it felt more like something to say. It was the expected rhetoric of a great warrior whose hope of being part of the first Irish side to beat the All Blacks hasn't been expunged.
But even he, when the cameras had packed up and the dictaphones were switched off, might have shuffled off to training with as little conviction as everyone else.
Hope does not spring eternal in Ireland. Realism does.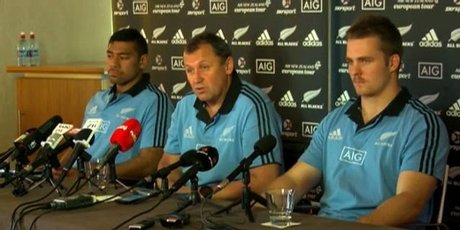 The last time the All Blacks were there, in 2010, the country was in chaos. The Celtic Tiger was perilously close to death - and as debt mounted and the infrastructure threatened to implode, New Ireland took a giant step back towards being Old Ireland.
And it appears that now the All Blacks have returned, optimism does not flow as easily as the Guinness.
Those who come peddling the impossible dream are not so readily believed. That frozen night last year in June when Ireland got within three points, seems like a long time ago.
The following week New Zealand took revenge, winning 60-0, and Ireland have been toiling ever since and are now trying to find their feet under new coach Joe Schmidt.
This will be the third game of his tenure and already he's asking for patience - a bad sign indeed.
It's possibly a long bow to draw, but the national rugby side have undergone a similar transition to the economy.
Just as the European Union financial bailout signalled that the good times were over economically, the declining influence of O'Driscoll is an indicator that Ireland's golden generation has passed.
Throughout the first decade of this millennium Ireland had players who were considered greats in their positions. There was O'Driscoll, Gordon D'Arcy, Ronan O'Gara, Anthony Foley, Paul O'Connell and Keith Wood. Ireland were a contender with those men on the park - or at least they believed they were.
Of the old guard, only O'Driscoll and O'Connell remain. They are both 34 and O'Driscoll has been hampered by injury since returning from the Lions tour. He's short of match fitness and the whisper from the local media is that they fear he may simply no longer be up to it.
O'Connell continues to be the rock of their pack, but he might not enjoy hearing that Luke Romano didn't really know who he was.
"Good question. What one is he?" replied the All Black lock when asked how much he knew of O'Connell.
It wasn't meant to be discourteous or signal a lack of respect, as Romano explained.
"We do our analysis on who we are playing. If I am lucky enough to play he'll be the man opposite me. We watch how they play and get their general trends. I focus on my own game and because I haven't had a lot of rugby, if I focus on the opposition it will detract from my game."
The Irish will undoubtedly feed off that perceived sleight and find some motivation in it.
But if the local papers are to be believed, no one is imagining that it will do much to change the outcome.