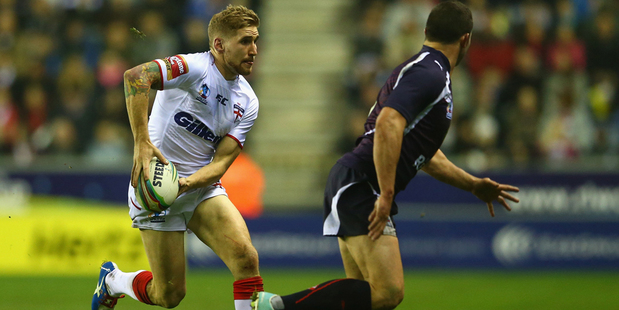 Defeat at this stage of the tournament would mean a failed campaign, but I'm confident the Kiwis will beat England in their World Cup semifinal.
This is the best New Zealand league side we have put together in a long time, possibly ever, and they have the potential to win the tournament.
They obviously have to get past England first, and that presents its challenges.
The English haven't played that well at the World Cup but one thing that worries me is that they have the ability to put one really good game together.
Players like Sam Tomkins and Sam Burgess can change momentum in an instant and they will be roared on by a big home crowd, in their own conditions at one of the world's iconic stadiums.
I'm just not sure they can maintain the required intensity for 80 minutes, which is what they will have to do against the Kiwis.
They have a smattering of NRL players but most ply their trade in the UK Super League, which is an inferior competition.
They're also not tested in top-level international competition as often as the New Zealand and Australian players.
A lot of the Kiwis have played in the NRL grand final or been exposed to finals football. They have been playing at a high level for some time and know what to expect.
New Zealand's focus on defence throughout the tournament has put the team in a good position. It is something they have worked hard on and it looks as though they have added a few aspects of the Roosters' defence into their play.
Their attack is also improving and a lot of their best work comes down the right channel where Sonny Bill Williams, Shaun Johnson, Dean Whare and Roger Tuivasa-Sheck are stationed.
Johnson is a player who really impresses me, and I sense he understands and enjoys his role in this team.
At the Warriors, he's often looked on to provide the attacking spark, but with the Kiwis he can focus on driving the team around the park. He doesn't have to try to conjure up something special with every set and it enables him play to what is in front of him.
If the unthinkable happens and the Kiwis lose, it will constitute a failed campaign. Making the final was the minimum requirement.
When we won in 2008, it almost came as a surprise. This time, expectations have risen considerably and rightly so.
There would probably be a few calling for Stephen Kearney's head if the Kiwis slip up this weekend, but that would be short-sighted. This is a coach and coaching team, not to mention management structure, that is heading in the right direction. They have put a hell of a lot into this campaign and demand excellence and defeat would be hugely disappointing.
Anyway, that's not going to happen because the Kiwis are going to win on Sunday.