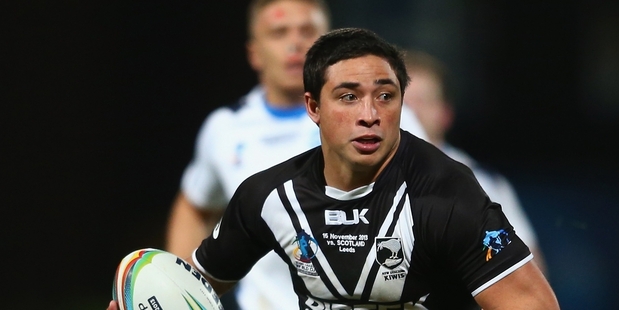 Kevin Locke has spent a lot of time thinking and talking about Sam Tomkins this year but, now he has the chance to finally square up to the player who will take his coveted No1 jersey at the Warriors next season, he wants to put the England fullback out of his mind.
Fortunately Locke realises there's a bigger picture at stake, like progressing to a World Cup final, than personal point-scoring. It would presumably give the 24-year-old great satisfaction if he played a leading role in helping the Kiwis beat England in their World Cup semifinal on Sunday morning (NZT), especially if he also overshadowed the player who could keep him out of the Warriors altogether next season.
Tomkins has caused Locke considerable angst this year. More specifically, speculation about Tomkins' impending arrival at Mt Smart Stadium caused him grief.
It didn't help that it was played out over the course of months, not weeks or days as is more customary in transfer situations, as Wigan asked the Warriors to delay any official announcement until they had found a suitable replacement.
It left Locke wondering where he might fit in at the Warriors, where he still has one more year left on his contract. In fact, he's still wondering and it's one of the first things he wants to establish when he returns to New Zealand after this World Cup.
"It's been really tough," he said of 2013. "Throughout the year, it played on my mind. I never really had it explained to me and I don't know what's going on back home and what [coach] Matty Elliott and the coaching staff have in mind for me next year.
"You don't bring someone over just to challenge for a spot and not play them. I'm not that stupid. If I do everything I can to be part of that squad week in, week out, then I'm doing the right things. If I do that and I'm still not being picked, then I know where I stand and I know where it's leading to. I'm 24 now and this is the time when you need to make decisions that are best for you. I have a family now and I need to take that into account."
It's why Locke was tempted when the Warriors asked him at the end of the season if he wanted to see if he could secure something for next year but the window closed and he will return to the club in 2014.
"I have to be honest, I had a look," he said. "But it was all up in the air. When my manager told me I could get a release, I didn't know what to do. Matty Elliott didn't even know about it. That was the hard thing. When Matty found out about it, he called it all off and I had to accept it and move on.
"It upset me but it's done now and I'm there. I just want to focus on next year. The Warriors have been there for me from day one and I can't let this get in my way. Just as long as I can do everything I can next year to impress the coaches that I want to be there."
It's what he's been trying to do from the moment he walked into Kiwis camp at the start of the World Cup campaign. It actually started earlier than that, after a phone call from coach Stephen Kearney who asked him how much he wanted to be in the New Zealand World Cup squad.
Locke's answer came when he checked himself out of a Warriors end-of-season holiday early and returned to Auckland to train. He had a series of solo fitness sessions with Warriors and Kiwis trainer Dane Norton before the rest of the Auckland-based train-on squad joined him and it helped him earn a spot in the 24-man World Cup squad.
He was something of a surprise selection but the Kiwis wanted to take a second specialist fullback on top of Josh Hoffman. Locke has now usurped Hoffman and will play against England at Wembley.
Locke offers genuine excitment and is a matchwinner on his day but he can also be inconsistent. It's why the Warriors went hunting for Tomkins, even though he still had three years left on his deal with Wigan and they had to stump up a world record 700,000 ($1.3 million) transfer fee.
Tomkins is regarded as England's best player and has talked about his desire to be the best fullback in the world. He is different from a number of fullbacks, plays in the line a lot more than most and backs himself to beat defenders. He's also a winner - this year he won the Challenge Cup and UK Super League title with Wigan - and doesn't appear encumbered by pressure and expectation.
"People mention the transfer but I didn't pay it and I don't get any of it," he told Britain's Telegraph recently. "To me it's not a massive burden. I'm going there and will earn good money but so do a lot of NRL players. It doesn't alter the fact that I'm going there to make a success of it."
Incredibly for someone so prolific (he scored a hat-trick on his international debut and had 16 tries in 15 internationals coming into the tournament), Tomkins is yet to score at this World Cup but is second for try assists with seven.
"I need to stop putting it on a plate for other people, don't I?" he joked with reporters. "I'm killing myself."
Tomkins is relaxed in the limelight and has been one of the faces of the World Cup. Locke has taken a more serious approach and knows he can't afford to be sidetracked on Sunday.
"I promised myself that if I got chosen for this tour I would do everything I possibly could to play and if I came up against Tomkins he wasn't going to be my focus," he said. "He's already signed on the dotted line [with the Warriors] so there's not a lot you can do to change anyone's decision.
"I just want to do well, so he's not going to be a target for me. He's only one player on the park and I have another 12 to worry about. I'm going to worry about my teammates and my job."
You get the sense Locke has done enough worrying this year.
Kevin Locke v Sam Tomkins
Age: 24
Height: 1.75m
Weight: 82kg
NRL games: 87(26 tries)
Tests: 6 (2 tries)
Sam Tomkins
Age: 24
Height: 1.80m
Weight: 79kg
Super League games: 122 (101 tries)
Tests: 19 (16 tries).
- APNZ