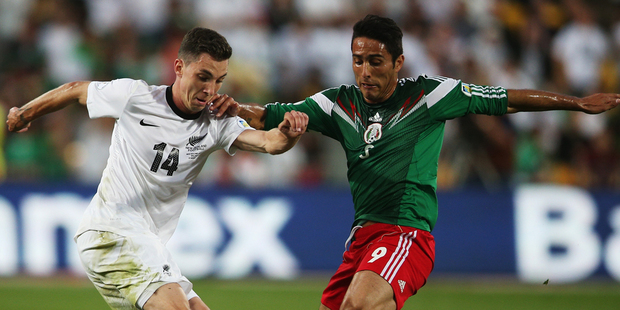 Ricki Herbert now represents the past for the All Whites but he gave a glimpse of the future in his farewell match.
The outgoing All Whites coach gave debuts to 20-year-olds Storm Roux and Louis Fenton in yesterday's 4-2 World Cup second leg playoff loss to Mexico, while Bill Tuiloma got a first start.
Last night's starting 11 also included Marco Rojas (22), Kosta Barbarouses (23), Michael McGlinchey, Chris James, Jeremy Brockie and substitute Craig Henderson (all 26). Winston Reid (25, injured) and Chris Wood (21, suspended) would also have started had they been available.
Ivan Vicelich (37), Tony Lochhead (31) and Jeremy Christie (30) have likely played their last games for the All Whites, while Leo Bertos (31) may also struggle for another opportunity.
Roux endured a tough introduction at right back, with all three of Mexico's first-half goals originating on his side of the pitch, but improved as the match progressed.
Fenton was solid when he replaced Tuiloma, who departed around the hour mark with quad cramps. Roux moved to left back and Fenton came on at right back, where his highlight was an outstanding goal-line clearance.
Left back Tuiloma looked the most assured of the three. He impressed when he first appeared on the international stage at the 2011 Under-17 World Cup and again at this year's Under-20 World Cup.
His elevation to the All Whites represents a meteoric rise for the 18-year-old but one he looks capable of handling.
Last night, Tuiloma was reflecting on the biggest match of his career, with his parents among the crowd of more than 35,000 at Westpac Stadium.
"The crowd was incredible," he says. "It was unbelievable. I won't forget this moment. It's a dream come true for me to be able to play top football, an international, at home as well."
Tuiloma felt that while there were moments he struggled, he coped well overall.
"It's a big step up. It's a lot faster, the players are really clever and physical as well."
Fenton also noted the atmosphere and pace of the game.
"It was the best atmosphere you could come in to, and to play a team like Mexico's only going to happen so often when you play for New Zealand, so it was an awesome opportunity and I enjoyed it, says Fenton.
"It was definitely fast, the ball always seemed to be in play and the way the Mexicans play, it's a lot of passing, so it was a tough game."
When Fenton was called into the squad after last Thursday's first leg in Mexico City, Herbert told him he'd likely be playing on the wing.
"But with injuries, I got a shot at right back and I'm just happy to play anywhere. The more games I play there, the better I'm getting, so I'm slowly getting confident."
Nobody had a better view of the three new boys than All Whites skipper and centre back Tommy Smith, himself still only 23 but a veteran of more than 100 matches for Championship club Ipswich Town. He was encouraged by what he saw.
"Bill gave a good account of himself," says Smith. "It's probably not his favoured position, left back, but he gave it a good go. Storm, I thought, had a brilliant debut. I was delighted for him in the way he went about things. He tried to keep the ball, didn't force things, and when young Louis came on, he did the same and provided some attacking prowess as well. The future's looking bright and hopefully we can start to play a more productive passing game and work our way forward.
Player ratings: All Whites v Mexico
One Night in November: An oral history of the All Whites' win over Bahrain
"To be honest, they didn't take much looking after. They're talented boys and they've obviously had a good footballing education. We were just trying to help them with certain positional things but it doesn't come just like that, it comes through playing matches. That's what they need to go and do now, play matches for their clubs, so they get that knack of being in the right place at the right time because they've got all the attributes technically to be really good players.
"There was a lot of young potential on show out there. It's up to them now to go back, work hard for their clubs and develop that potential to force their way on to the international scene permanently."
Tuiloma is five months into a two-year contract with Marseille and the good news is he can play a variety of positions. While used as a fullback by New Zealand, he starts more as a centre back and defensive midfielder at Marseille, where he plays mainly for the under-19s and sometimes the reserves.
He's setting his sights on becoming the first New Zealander to play in the French top flight, considered the fifth-strongest in Europe behind England, Spain, Italy and Germany.
"I started training with the first team a couple of weeks ago so hopefully I can get a spot in there and get a debut as well," says Tuiloma.
He laughs when asked how his French is progressing. He says 'oui' was the only French word he knew before joining Marseille.
"It's a hard language to learn but I'm taking lessons and hopefully I can be fluent next year."