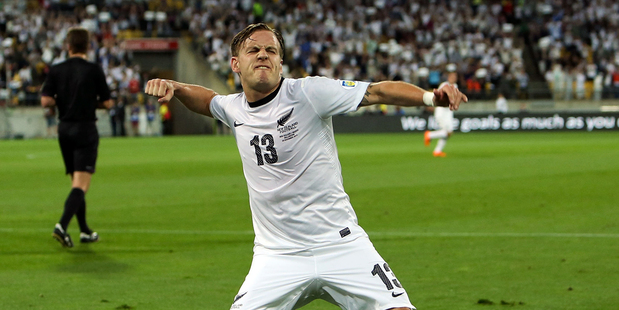 All Whites midfielder Chris James couldn't miss his spot kick against Mexico at Westpac Stadium last night because he didn't want to feel Rory Fallon's wrath.
When New Zealand were awarded their second penalty of the home leg of their intercontinental playoff a handful of players were clamouring for the ball.
After Jeremy Brockie had his effort in the first half saved by Mexican goalkeeper Moises Munoz he was never going to have another chance, so the opportunity fell to hometown lad James.
"I just remember Rory as I picked up the ball, he looked at me and he goes `if you miss this, I'm going to kill you', because he wanted it as well,'' James recalled after the game. "I said `I'm OK, I'll take it'.''
James was more than OK as he blasted the ball in to the back of the net in the 80th minute as the Wellington crowd of 35,206 exploded and he ran over to the fans to celebrate.
"I hit it pretty well. I sort of waited to see which way the goalkeeper was going and he kind of stood a little bit more still towards the end of my run up so I thought `I'm going to have to hit this a bit harder because he hasn't decided,'' James said.
"So I was glad for it to go in, it was a good feeling as well and to run over and just see that support - because that support tonight was amazing - I think I've never experienced anything like that.''
The penalty only made the score 3-1, with Mexico still in firm control of the tie as they went on to win 4-2.
But it was due reward for the home fans, who ventured to the Cake Tin in droves to support the All Whites, despite the dire situation they faced following the 5-1 loss to the Mexicans in the first leg last week.
"I've taken penalties throughout my career so far,'' James said. "I couldn't count how many but I've also missed a few. I've missed two in one game before. So I'm not shy to pick it up and take that responsibility.''
James also scored New Zealand's lone goal in the away tie at the Estadio Azteca last Thursday after coming on as a second-half substitute.
He was given the opportunity to start tonight and worked tirelessly throughout the contest and looked composed on the ball despite the defeat meaning New Zealand won't be going to next year's World Cup in Brazil.
The 26-year-old posted on his Twitter account yesterday that he was going to score with a free kick in Wellington and his prediction wasn't far off.
Player ratings: All Whites v Mexico
One Night in November: An oral history of the All Whites' win over Bahrain
After making his international debut in 2006, the well-travelled James has been in and out of the national side.
Now based in Finland with top flight club Kuopion Palloseura he returned to the All Whites mix in September's OSN Cup in Saudi Arabia after a couple of years in the wilderness.
He showed during the past two games against Mexico he is someone the New Zealanders can build around as they look ahead.
"I felt that I've done well enough to keep myself in the national set-up. That's the plan and that was the idea and I want to be a part of it for the future. I think from today, you can see the future of the New Zealand team, there's good things coming. Players like Storm [Roux] and Bill [Tuiloma] were some of the best players in today's game, I thought. So there's a great future and I want to be a part of that.''
Scoring twice against Mexico in as many games will only help the midfielder's case for further inclusion.
- APNZ