Team considered one of best ever a win away from clean-sweep year.
Is this All Blacks team the greatest ever?
It's not the first time this question has been asked, but it has emerged again after the heroics of Steve Hansen's men as they look to complete a "perfect" season against Ireland on Monday.
"They've been a fantastic side really, I mean to go through a season unbeaten is superb, and obviously there's still one to go," said Bryan "Beegee" Williams, one of the great All Black wingers who played in the first Grand Slam team of 1978, a side that on reflection probably fell just short of greatness.
"If they're able to pull that [win against Ireland] off, they will rank right up there with the very best All Black teams of all time."
After a string of strong results during 2013, the question being posed is not if the current test side will become the greatest side, but more a matter of when.
Williams believes this is a test side that has raised the bar for rugby worldwide.
"They've set new standards. Really in terms of skill, fitness, attitude and the way they conduct themselves, I think on and off the field they've been outstanding."
Peter Thorburn, a former All Black selector and rugby pundit, has few doubts this side could be remembered as the best.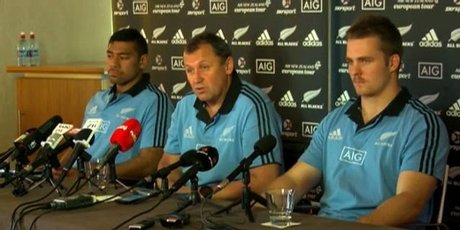 "The current group, and this is evolving within the last three or four years, I think are as good as it gets."
He picked South Africa and England as the teams in the best position to end the All Blacks' streak, but warned that New Zealand were well-placed to continue to improve into the next World Cup.
Williams acknowledged it was difficult to compare across eras, and said people tended to "hark back" to their personal favourites.
"The World Cup team of 1987, that was a great side that went for three or four years pretty well unbeaten ... but for me it was probably the [1966-69] team when Fred Allen was coaching. They played brilliant rugby."
However, the strength of opposition teams is stirring debate when comparing the class of 2013's success to teams of past eras. This is an issue that former Waikato and Springbok halfback Kevin Putt says can cloud perceptions of greatness.
"There is no question that if they continue to carry this momentum forward, they will no doubt become the best team in the world," said Putt.
"The Northern Hemisphere is facing dim times in test rugby, notably France and Ireland. It's all relative, but in terms of competition it does count toward a lot. But these All Blacks are showing that they have the resilience, belief and are putting in the hard yards that these other teams are lacking."
If the All Blacks beat Ireland in Dublin on Monday morning (NZ time), they will clinch a 14-test clean-sweep for the year.