Time for mouthing off is over; it's down to deeds 'out there'.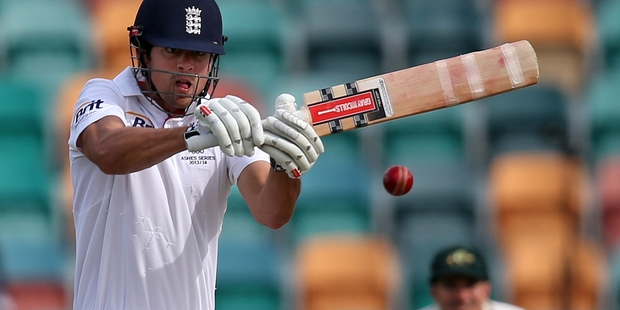 Alastair Cook has won the Ashes three times but if there is one achievement that has eluded him during his distinguished career, and one he will be desperate to rectify against Australia starting today, it is England winning the first test of an overseas series against a major test country.
Aside from Bangladesh, they last won an opening test abroad in 2004, when they beat South Africa in Port Elizabeth. Since then they have proved slow starters, though that may be about to change if the determined mood in their camp is anything to go by.
There is no doubt that Australia have wound England up on this tour, on and off the field. It is deliberate, of course, and Cook's side have mostly bitten their tongues in the face of provocation that has ranged from weak opposition, Michael Clarke naming England's team for the test, to Mitchell Johnson mouthing off about hurting batsmen in the press.
The time has now come for both teams to work off their frustrations with each other, the prize an early lead in cricket's most coveted series.
With the past three Ashes series on their CV, England probably expected a modicum of respect when they arrived but they have had none, which makes this a potentially edgy encounter, providing the forecast for rain does not turn it into a damp squib. It is the possibility of storms that has had Australia contemplating playing James Faulkner, a bowling all-rounder, in place of Nathan Lyon, the spinner largely redundant at the Gabba unless the sun can get on the pitch for the first few days.
Whichever team Australia play they have been virtually unbeatable at the Gabba for a generation, having last lost a test here against the West Indies 25 years ago. England last won here in 1986-87 when Ian Botham belted a hundred, but England's record at the ground is woeful, having won just four from 19 tests.
That could change this time but England's preparation has not been as seamless as it was coming into the series here three years ago, even though they drew the corresponding match then. They have a new, but capable, opening batsman, Michael Carberry, and a convalescing wicketkeeper, Matt Prior. Although not yet ruled in or out with his calf injury, he is one of the stalwarts of the team as well as vice-captain.
Yesterday, he batted in the nets and worked on his keeping with Bruce French, a black strapping very evident on his left calf. He is a fine, experienced competitor but the series is five matches long. With a 10-day gap between this test and the next, at Adelaide, it might be more sensible to get him completely healed rather than risk playing him.
If he is not fit Jonny Bairstow will play, yet Cook would not confirm the identity of his third seamer. By a process of elimination and England's desire to maintain pressure with the ball, it is almost certainly Chris Tremlett.
Compared with the English summer, when they used 18 players in the series, Australia appear more settled. To 10 of the team who played England at the Oval three months ago, they have added George Bailey for a debut at the age of 31, and Johnson, recalled to continue a test career of highs and lows. Yesterday in the nets, it was uncanny to see how the old verities about the two played out, Bailey unable to lay a bat on the red ball and Johnson unerringly finding the middle of everyone else's bat with it. With white balls, the two are among the best exponents of their craft in world cricket, but a change of colour and format can create doubts.