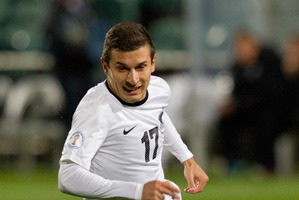 Tonight is not just a homecoming for Kosta Barbarouses, it's a chance to prove that his long road as a professional footballer is reaching a new chapter.
Along with goalkeeper Glen Moss and second half substitute Chris James, Barbarouses was probably the only other All White to emerge with genuine credit last week in Mexico.
The 23-year-old was at the centre of most of New Zealand's few attacks and never stopped running in an energetic performance, where he seemed less affected by the altitude than some of his team mates.
Barbarouses's display mirrored his approach to his football career; he wasn't going to let anything get in the way of giving his best shot.
In 2007 Barbarouses was the 17-year-old schoolboy wunderkind with the Phoenix- at the time the youngest player signed by the Wellington club. But he was never a regular starter under Ricki Herbert and moved to the Roar in 2010.
He was an instant hit in Queensland, contributing 12 goals and getting picked for the A-League All Star team.
"It felt like a breakthrough in Brisbane," remembers Barbarouses. "But I am always looking to challenge myself. That's why I set my sights on Europe."
He moved north and landed at the extreme edge of the continent, in one of the remotest areas of Russia. Only three of his team-mates at Alania Vladikavkaz spoke English and life was quite limited in the city located 1500km from Moscow and more than 2000km from St Petersburg.
Temperatures could fall as low as -25 degrees Celsius and Vladikavkaz was a city of few enchantments.
"Russia was pretty tough," says Barbarouses. "But I still gained some things there."
He then scored a dream move on loan Greek powerhouse Panathinaikos, a club he had idolised as a child. Appearances were intermittent, though he did feature in some Champions League qualifying matches.
"It could have been better but I played in Greece for my favourite club so it wasn't all bad," says Barbarouses. "It was a very interesting two years in Europe and I always feel when an opportunity comes you have to take it."
Barbarouses didn't establish himself in Europe but returned stronger, fitter and faster to the A League, with a greater presence on the field. From being a surprise omission from the 2010 World Cup squad (one of Herbert's more curious decisions) at 23 Barbarouses is now an established All White.
It's been a long road over a short time. He made his debut in March 2011 versus China and notched his first international goal in the 2-2 draw against El Salvador last year.
"There has been some up and downs," admits Barbarouses. "But I feel like I have made a lot of progress. I feel more comfortable at this level now."
The hometown boy hopes Wellington can turn it on tonight, as New Zealand looks for some revenge against Mexico - on and off the field.
"Obviously it is a bit different to Mexico as Kiwis are a bit more relaxed," says Barbarouses. "But hopefully they can give [Mexico] hell at the stadium, boo them when they have the ball and really cheer us on. It honestly does help and is a big advantage."