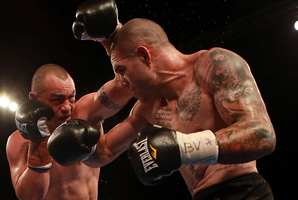 Stricken boxer Daniel MacKinnon's memory continues to improve and he has been able to get out of bed and move around.
"I had great news yesterday - I spoke to Dan's wife Christina who said Dan was continuing to amaze everyone with his rapid recovery," MacKinnon's manager Ken Reinsfield said.
"Memory tests were conducted and Dan passed with flying colours. He is very chatty and cheeky and is improving daily.
"He was able to get out of bed and move around a small amount. Obviously whilst he is still weak his movements are all normal."
MacKinnon underwent emergency brain surgery at Waikato Hospital following his bout on the undercard of David Tua's fight with Alexander Ustinov on Saturday.
A release date from hospital for MacKinnon has not yet been discussed but he is no longer in ICU and has been move to a general ward.
The New Zealand boxing community has rallied around Daniel MacKinnon as the light heavyweight continues his recovery and support continues to pour in for the boxer.
Reinsfield has been inundated with support from around the world and has received numerous donation requests - so much so that he has set up a Facebook page.
"We are inviting anyone who would like to support Dan's return to health by leaving messages or donations. A bank account has been provided on the Facebook page. The Westpac Bank have supported us and anyone who would like to make a donation can go to any Westpac Branch to donate to the "Dan Mackinnon Donation Account."
Promoters Duco Events have also moved to support MacKinnon and his family.
"We don't want to see Dan left out in the cold, so we are doing all we can to support Dan and his family," said Duco director Dean Lonergan.
KidsCan - the nominated charity for December's Fight for Life - have agreed that a part of the funds raised from the night's auction go to the MacKinnon family.
"Duco will also keep in close contact with Ken and Dan's family," Lonergan continued. "And, if Dan needs further assistance in the coming months will be there to help out."
Meanwhile, MacKinnon's opponent Robbie Berridge has offered his heartfelt support.
"On behalf of Team Berridge, I would like to wish Daniel a speedy recovery and the best to him and his family," Berridge said.
"He is a true warrior and we are positive he will make a full recovery."