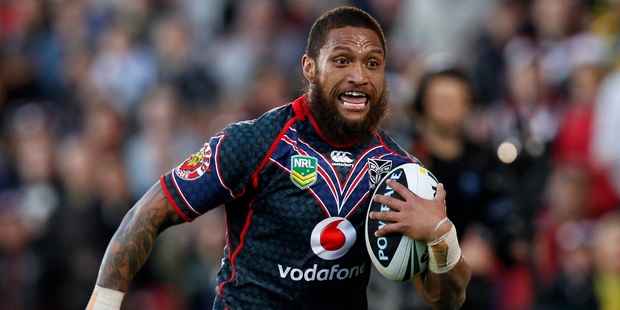 At 112kg, Manu Vatuvei is one of the biggest players in the Kiwis squad and his absence would leave an equally sizeable hole, which is why he will be given every chance to be fit to face England in the World Cup semifinal on Sunday morning (NZT).
The 27-year-old was the only absentee from an occasionally intense New Zealand training overnight. Jason Nightingale would come into the side if Vatuvei doesn't recover in time from his groin injury and Kevin Locke seems to be winning the battle for the No 1 jersey over Josh Hoffman, running for most of training in the fullback's position.
Vatuvei limped off late in the 40-4 win over Scotland last weekend with a groin strain which came on top of the knee injury which has been troubling him throughout the tournament. He has been in great form despite his pains and strains but the stakes are high and the Kiwis won't want to take a half-fit player into a World Cup semifinal.
"I think he's massive for the team," halfback Shaun Johnson said. "Everyone loves playing with Manu and he leads on the field with his actions. That's what we love about him. I would feel really sorry for him if he was to miss a game like this. He's been awesome all tournament and deserves to play."
Assistant coach Ivan Cleary said they would give Vatuvei every chance to be fit and would have a better idea of how he was progressing after tomorrow's training session.
"The medical advice was that there was no use in running him today, we probably could, but at this stage we're trying to give him every chance to recover so when he does train he can train fully," Cleary said.
"I'm honestly not sure [if he will play]. He surprised me last week [when he had a knee injury] and we're getting to the stage now where they're pretty keen to play. When the stakes get this high you never rule anyone out.
"Honestly, I don't think it's a huge thing [if he is ruled out]. Obviously we want Manu to be there. He's in excellent form and it's pretty obvious what he provides, but Jason Nightingale has arguably been one of the form wingers over the last five years in the NRL and has always done well for the Kiwis. He is busting for a game as well, so it's a pretty good position to be in."
Nightingale has played twice on tour - the 48-0 win over France and the World Cup warmup against the Cook Islands. He has played 18 tests since being a late callup for the 2008 World Cup squad and has also registered more than 150 NRL games for the Dragons.
Locke spent most of the training session at St Mary's University in south-west London at fullback in what looked like the top team. Aside from prop, where the Kiwis have five world-class front-rowers to choose from, fullback is the most competitive position and Locke will hope he did enough in the win over Scotland to be picked ahead of Hoffman.
Both have played twice on tour and offer different things - Hoffman reads the game well, is a good support runner and rarely has a bad game, whereas Locke can be a matchwinner on his day with his range of skills but can also be erratic.
"I guess we'll find out," Cleary said when asked if they were leaning towards Locke playing. "I thought he played well [against Scotland] and that's a really competitive situation. Both boys have played two games and done well in two games. It's just another one of those tough choices."
Training started off in light-hearted fashion but ended with more serious intent, highlighted by a thumping tackle on Simon Mannering by Jared Waerea-Hargreaves that dumped the skipper on his back.
"The intensity certainly picked up and, from what I saw, the boys loved it," Johnson said. "That competitiveness is all coming out and shows how hungry we are for it."
- APNZ