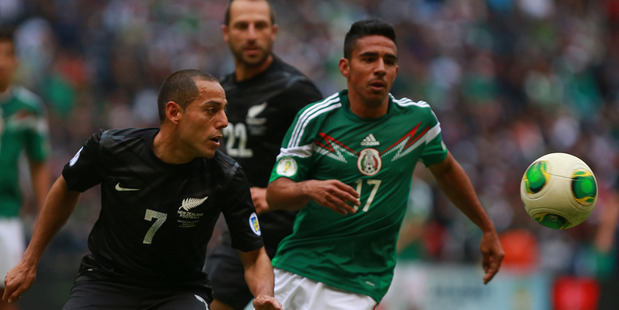 What a difference a few days can make, and a reasonably positive atmosphere surrounds the All Whites for their so-called mission impossible against Mexico tonight.
It would take a miracle for the All Whites to qualify for the World Cup finals in Brazil. We all know that. But the fans are still enthusiastic enough because it represents the start of a new generation of All Whites.
It feels as if things are back on a reasonably even keel after the 5-1 debacle in Mexico was followed by an embarrassing gaffe when the team snubbed the media on their return. Whoever was responsible should never hold a PR position in New Zealand soccer again. Coach Ricki Herbert's response to the defeat was also unfortunate - a show of humility rather than a silly tirade would have served him better.
But now that the return game is upon us, the coach seems more relaxed and the players perky. They can play without fear, because no one other than a supreme optimist gives them any chance.
I fully support Herbert's selections, bringing the young guys in, and the change of formation to 4-4-2. Storm Roux and Bill Tuiloma will at least have the pace and fitness to deal with the Mexicans. The players will be more familiar with this formation from their club teams. It is more attacking than Herbert's previous use of three at the back, which will suit our players better.
It is also great to see Shane Smeltz back - given the right service he can score at any level. My big concern, though, is that the All Whites could be over-run in the midfield and the wide players will have to do a lot of tracking back.
The fans want to see the team play with more confidence and with some of the Kiwi grit they have become used to seeing, and these Mexicans are not unbeatable. A couple of early goals, and who knows?
It is imperative that the All Whites' ball retention improves out of sight, and central defenders Andrew Durante and Tommy Smith will need their concentration and discipline to hold for the 90 minutes.
Win, lose or draw, I think this should be the end of Ricki Herbert's reign. Eight years is long enough for both him and the sport - I hope he gets a fitting farewell for what he has achieved.
And a final thought - we have beaten Mexico 4-0 before.