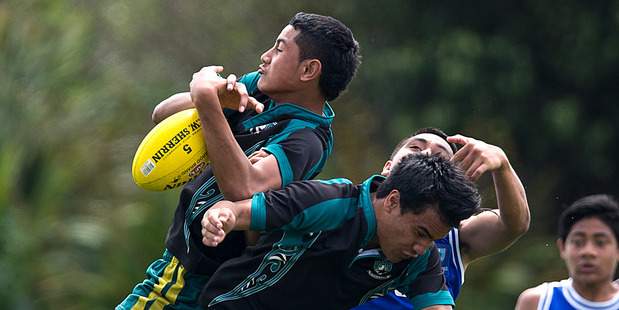 It is huge in Australia and now New Zealand schools are getting more opportunities to play Aussie Rules as the sport continues to expand on this side of the Tasman.
And it is not only the big schools making their mark. One Tree Hill College were crowned the AFL Junior SS North Island Champions at Trusts Stadium on Saturday.
Many athletes at the tournament have already been rewarded with invitations to join the AFL New Zealand High Performance Programme.
This programme offers training, match play and development, and provides a pathway for talented athletes to secure New Zealand representation.
Teams earned their places at the one-day tournament through performances in Hawks Cup regional cluster tournaments.
The Junior Hawks Cup is the first step on the AFL New Zealand High Performance Pathway.
One Tree Hill College beat tough opponents from the region including previous winners and current Waitakere Junior Hawks Cup champions, Kelston BHS. Playing a fast and skilled brand of AFL, One Tree Hill were unstoppable on attack.
Other teams in action included Southern Cross Campus, the Counties champions, Bay of Islands College, winners of the Northland Junior Hawks Cup, and St Paul's College, second in the Central Auckland Junior Hawks behind One Tree Hill.
One Tree Hill's sternest test came from tournament newcomers Southern Cross who almost caused an upset in the first round. In a tense contest only superior accuracy in front of goal gave One Tree Hill their 6.2:38-4.4:28 win.
Southern Cross went on to finish second after beating all other teams heavily. St Paul's finished third ahead of Bay of Islands College.
The match of the tournament was a remarkable second round clash between St Paul's and Bay of Islands. After a flying first half, the Northland school led 4.1:25-1.2:8, with St Paul's in some trouble. However, after the break they came back strongly, organising their defence far better and keeping possession to win 4.2:26-5.7:37.
Some members of the AFL New Zealand High Performance programme were involved as coaches at the tournament. Bay of Islands College student coaches Te Kopa Tipene-Thomas and Matiu Cowles have both represented New Zealand, as have Shane Leat and Tevita Misiloi, who coached KBHS.
As well as student coaches, the support of teachers is invaluable for the success of the Hawks Cup programme. Nik Warrensson (KBHS) has had a long involvement with Secondary Schools AFL. Daniel King and Misha Kravchenko coached the Southern Cross while physical education teacher Joe Cunningham led St Paul's College. One Tree Hill teacher Terry Kimiangatau has also had a long involvement with AFL at his school. One Tree Hill College have entered the Junior Hawks Cup every year since the inaugural competition in 2009. In that year 15 schools entered what was then a junior tournament only. Since then, AFL New Zealand has expanded the competition to include a tournament for senior and female students. The success of the female Hawks Cup programme was demonstrated with the recent international debut of the Under-18 New Zealand Kahus team, who became the first female representatives of New Zealand in AFL.
AFL New Zealand Secondary Schools co-ordinator Mick Coultard expects the Hawks Cup will only continue to grow.
"With more than 30,000 children around the country being introduced to AFL through the AFL KiwiKick programme, an increase in the number of participants in secondary school programmes, and the increasing availability of televised AFL through Sommet Sports, we expect the Hawks Cup to be even bigger and better next year," said Coulthard.
Approximately 9000 students enjoyed AFL New Zealand Secondary School programmes across 2012 and 2013, with additional participants projected for 2014.
With the Junior Hawks Cup completed, attention now turns to the Senior Hawks Cup tournaments, to be played in term one next year. Year 10 players from this competition will be eligible to represent their school at the Senior Hawks Cup. The Hawks Cup is played in partnership with the 2013 AFL Premiers Hawthorn Football Club, who provide sponsorship and prizes for players. The tournament MVP, Rudi Sifa (Southern Cross) was presented with a Hawthorn Hawks jersey as his prize.
AFL New Zealand is sanctioned by the New Zealand Secondary School Sports Council and appears on the Sport New Zealand list of National Sporting Organisations.