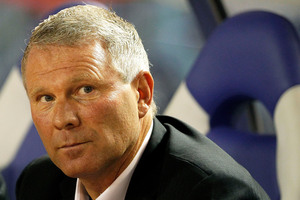 If the All Whites can't achieve the near-impossible with a big win over Mexico at Westpac Stadium tomorrow night, it will be coach Ricki Herbert's last game in charge.
The long-time All Whites manager has confirmed he won't seek reappointment when the position is advertised at the end of the current World Cup cycle, whether that be after tomorrow's game or next year's global tournament in Brazil.
Herbert's reign will continue through to Brazil if the All Whites can find a way to overhaul the 5-1 deficit they face in the return leg of their intercontinental playoff against El Tri but it looks likely tomorrow will signal the end.
Following last week's heavy defeat in the away fixture in Mexico City, Herbert hinted that he may stay on with the side when he asked journalists "is there anybody better?'' than him to guide the New Zealanders.
But a desire to put more time in to his football academy and work with young players has led Herbert to believe he has run his course.
"I've spoken long and hard about it with my family,'' Herbert said. "I've spoken with the [New Zealand Football] chairman [Frank van Hattum] today and I just feel, personally, it's the right thing to do and I look forward to some other exciting things in my life and maybe a different chapter in another direction.
"It certainly hasn't been a reaction from post the Mexico game, absolutely not. I'm 52 years of age, I think in world football, you're probably still seen as a relatively young manager and why wouldn't I want to have some other expectations or interests, to be in different environments and be challenged in those?''
After serving as an assistant from 2003, Herbert was named as the All Whites coach in February of 2005 as he succeeded Mick Waitt.
Herbert's first game in charge was a 1-0 loss to Australia in a friendly in London in June, 2005, which was the only international fixture the All Whites played that year.
Since then, he oversaw their first victory in Europe when they beat Georgia 3-1 in Germany, guided New Zealand to their second World Cup appearance in South Africa in 2010 and brought through a host of new players to the national team.
There was the Horror in Honiara last year when they were rolled over in the Pacific Islands and failed to qualify for the Confederations Cup but, as Herbert pointed out, the national side is in a better state than when he took the job over.
"I'm really proud of it. I think we brought forward the game. One 5-1 loss to Mexico, for me, doesn't change the fact that we've got a fit and healthy professional team [in the Phoenix]. We've got a really exciting national team that, I think, in the next few years will really flourish and prosper and lets hope it does.''
The All Whites could produce the unthinkable tomorrow night but it's likely that Herbert's time with the clipboard will end at Westpac Stadium - a venue that holds so many good memories for him when you consider his six-year stint coaching the Phoenix.
- APNZ