The Kiwis haven't beaten their World Cup semfinal opponents at home since 2005.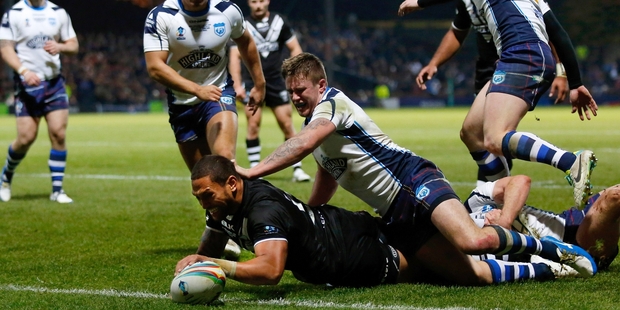 As good as the Kiwis' recent record against England at the World Cup is, their tally against the same opponents in the UK over the past decade has been equally poor.
The Kiwis have knocked England out of the last two World Cups and will look to extend that to a third at Wembley on Sunday morning (NZT).
But they haven't beaten England in the UK since 2005, when Brian McClennan's side won the Tri Nations in sensational fashion, and it is their only win over England in the last 10 matches there.
The winless streak started with the dreadful tour of 2007, won 3-0 by England, which cost Gary Kemble his job and thrust Stephen Kearney into the position.
It continued in both the 2009 and 2011 Four Nations played in the UK, when the world champions failed even to make the final, but Kiwis manager Tony Iro thinks a great deal has changed since those campaigns.
"I think those 2009 and 2011 squads, although we had good players, lacked depth," said Iro, who was assistant coach for both tours. "I think we underestimated England and took our eye off the ball because there was always Australia the following week.
"I certainly think it's a different group of players. We have a number of guys coming off very successful NRL seasons. Although this is still a relatively young squad, it's still pretty deep in experience.
"In 2011 in particular we lost a lot of first-choice players before we went away which, in hindsight, was probably a good thing because we took away a number of young kids who are now more seasoned pros."
Included in that list would be vice-captain and five-eighth Kieran Foran, prop Jared Waerea-Hargreaves and even hooker Issac Luke, who debuted in 2008 but who has matured tremendously on and off the field since the 2011 tour.
Winger Manu Vatuvei remains a doubt for Sunday's match but the Kiwis' medical staff won't really know how serious his groin strain is until the squad's first field session of the week tomorrow.
New Zealand won't want to be without Vatuvei but they have good depth with the likes of Jason Nightingale, Kevin Locke, Josh Hoffman and Bryson Goodwin capable of playing there.
One of England's strengths is their wingers, and Ryan Hall is the tournament's leading tryscorer with eight so far and has also scored 21 tries in his 19 internationals.
They also have a sizeable and abrasive pack led by James Graham and Sam Burgess.
Like the Kiwis, they have played well in patches at the World Cup but produced their "worst" performance of the competition against France, says coach Steve McNamara.
One of their biggest issues is playing well for sustained periods and this is highlighted by the fact they have scored 16 of their 24 tries in 20-minute bursts.
The Kiwis have been more impressive overall and competition for spots is good.
Iro said he sensed a welcome edginess in the camp as the tournament enters the critical phase.
"Last week was also different as opposed to the pool games," he said.
"A quarter-final against Scotland doesn't have the same ring as a semifinal against England but it was still a knockout game.
"We know England will be up for it because this is their tournament and we haven't played that well up here in a long time."
Last 10 matchups in UK
2011
England 28 New Zealand 6, Hull
2009
England 20 New Zealand 12, Huddersfield
2007
England 20 New Zealand 14, Huddersfield
England 44 New Zealand 0, Hull
England 28 New Zealand 22, Wigan
2005
New Zealand 42 Great Britain 26, London
Great Britain 38 New Zealand 12, Huddersfield
2004
Great Britain 22 New Zealand 12, Huddersfield
Great Britain 26 New Zealand 24, Hull
2002
Great Britain 16 New Zealand 10, Wigan