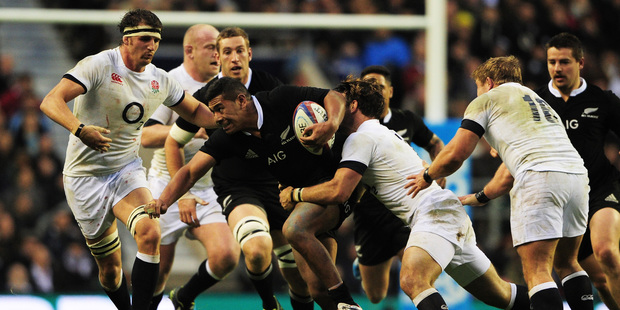 Ditch the talk about justice for the All Blacks, enterprise against intimidation or revenge for last year's stumble at Twickenham.
In the midst of this 30-22 triumph against England there was an absorbing study of contrasts which makes test rugby so much richer.
England veer towards the Springboks' template which brings a thumping physical style to take the sting out of their rivals and reduce their mental resistance.
They will bludgeon their way downfield, taking space, eking out the metres and forcing the sort of penalty concessions which had the All Blacks playing catch up for the final quarter.
Any team not up to the relentless sort of attack England were able to deliver through the middle 40 minutes of yesterday's test will fall over.
The All Blacks understand all those demands while they shift their possession to the flanks or kick it downtown to pressure defenders.
Sharp early focus and a new ruse or two with Kieran Read's crucial impact unsettled England and gave the All Blacks crucial points which told in the result.
When England claimed some ball and settled to their rhythm, they were like a white centipede churning through and over its latest buffet. There was a hump or two in their progress but they kept moving.
The weather was perfect and the pitch in great shape for the England plough to challenge the All Black combine harvester.
There was very little in it. Perhaps a shade of fitness and belief in their system got the All Blacks home. Had England found a centre with more bite and less mistakes, the inquiry would have been more intense.
Losing Daniel Carter, Tony Woodcock and Charles Piutau to injury and Read to the sinbin were disruptions to the All Black patterns but issues every top side has to stare down to remain supreme.
In the late searing pressure when the 81,739 crowd was roaring after England hit the front, the arena was ready for someone to make the defining play.
A year ago it came from Manu Tuilagi who wore white in midfield. This time he was missing, injured, and it was Ma'a Nonu in his black jersey who made the play to assist Julian Savea's second try.
Just as majestically, Read, under yellow card pressure, dug into a late ruck to win a penalty with England forwards enveloping him.
Those vital moments are often the difference in these tight tests, especially when the focus narrows as the lungs squeeze in the last quarter.
All Black captain Richie McCaw urged his men to trust themselves and their ideas until they halted the glacial slide and then pick-axed their way to safety.
It was a massive effort which will have convinced some of the newer men after their disappointment a year ago. Senior men McCaw, Keven Mealamu, Woodcock, Sam Whitelock, Read and Nonu cajoled their less experienced buddies.
How many last the pace until 2015 is undetermined, but right now they are doing some serious business.
If England continue their work and develop more backs like Mike Brown to add to their portfolio they will be a huge threat when they host the next World Cup.
Some of the gloss of that anticipation will be scattered next year when the All Blacks host them three times in June then meet them on the end of year tour.