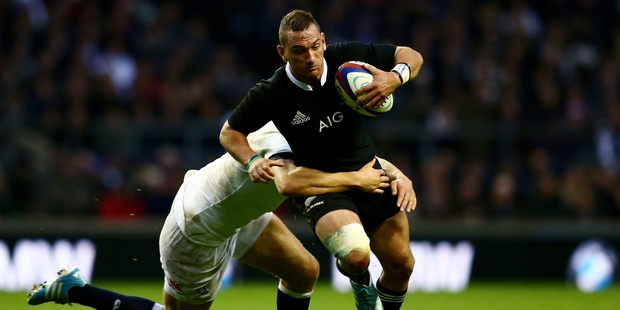 Lest we forget, the All Blacks slipped up at this stage a year ago.
Having sailed through the year unbeaten, a combination of illness, tiredness and a very good England team conspired to send them to the summer holidays with frustration, rather than satisfaction, accompanying them.
A similar result again in Dublin in the early hours of next Monday morning would trump that and then some, given how hard they had to work to grind out the victory over England and the fact Ireland have never beaten the All Blacks.
Aaron Cruden, involved at No 10 a lot earlier than expected at Twickenham when he replaced the injured Dan Carter in the 26th minute, is aware both of the trap that the All Blacks could fall into and an almost tangible reward at the end of a long season.
"We can just look at last year and learn a lot of lessons from that," he said of last year. "We obviously slipped up in the last game. I know the boys are going to be really eager and excited about this. We just have to make sure we do everything right ... it's a little different this week too, being on a Sunday [Monday NZT] - we have an extra day to recover which we're going to have to use wisely."
Cruden, showing the same cool head he displayed on the Twickenham pitch as the home side mounted an impressive comeback to take the lead at 22-20 after being down 17-3, said going through a calendar year unbeaten for the first time was more of a media construct than something driven from within.
"The media will make a bit of that this week and we're obviously aware of it - it will be a massive achievement - but the focus first and foremost is getting everything right for a good performance.
"We've been together a long time now ... it is a little bit mental, but the exciting thing is the boys are aware that it's the last game so that will energise us through the last week because we know we've got nothing after the game. The boys will be pretty excited about that and I'm sure there will be a few laughs and a lot of excitement during the week."
Cruden was tidy as usual when he replaced Carter. He missed one penalty from a handy angle but was on target with his other kicks and scrambled well on defence. He packs a lot of power into his relatively small frame and his leg drive when going into contact was noticeable. He is becoming a bit of a charge-down expert too and notched another yesterday to keep the pressure on.
"I was on a little bit earlier than I was going to be but I love the challenge. The game was in the balance there and the way the boys were able to hang in the fight, especially in that second half ... and storm home was great."
- APNZ