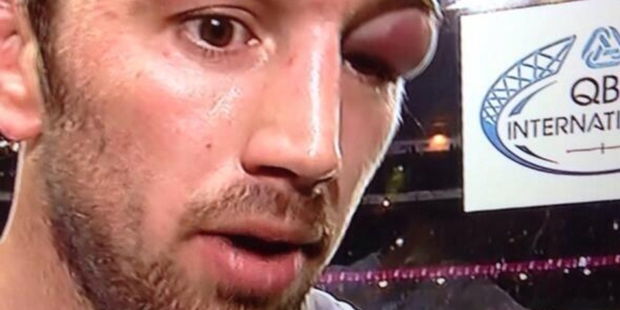 All week we heard it. Pride in the shirt. Twickenham as citadel. One for all and all for one. And none of it was hollow whiteboard talk. This England team would fight you for a crumb of bread, especially if you wore a black New Zealand shirt.
Unified, resolute and undaunted by early setbacks, Stuart Lancaster's side have completed the first great stage in their development. The minimum demand of rolling self-sacrifice has been met with relish by the 2015 World Cup hosts. Chris Robshaw left the field with an eye so swollen that a beaten prizefighter might have fainted at the sight of it. All around him marched men who now throw their bodies into the combat areas with no heed for personal safety.
Do England really deserve eulogies after a 30-22 defeat? Well, yes, because we could see in this absorbing contest how winning teams are built first of all on stubbornness, determination, perseverance and loyalty to the jersey, the cause.
The truth that then needs to speak its name is that England's backline lack the creativity and spontaneity to consistently threaten New Zealand in open play. Clive Woodward, coach of the 2003 World Cup winning side, urged Lancaster to rethink the structure of the team from numbers 9-to-15, to add a dash of art and ingenuity. Otherwise, Woodward warned, New Zealand would beat England "nine times out of 10". This seems a reasonable criticism, but it should not dominate the reviews.
Instead we ought to recognise the dire peril Robshaw's men were in at 17-3 down, after tries by Julian Savea and Kieran Read, who wears No 8 but plays like a centre remodelled for Halloween. Until a Joe Launchbury try ignited a fightback, England were in the grip of New Zealand's raging need for revenge.
You sensed a deluge, until Owen Farrell's kicking and heroic forward pressure exposed an ancient fault-line in New Zealand's nature. Under smart and heavy physical pressure, they are not the magicians who can make opponents disappear with their dazzling skills.
Twelve months ago England applied this principle from the whistle. This time they had to apply it from a losing position. Lancaster declared himself: "Very proud of the fortitude of the players. There were lots of young players, new combinations, experienced players missing. If you went in the England changing room they're desperately disappointed to lose against a team who are unbeaten all season."
There is no ingrained urge in English rugby to pull off the unexpected, to push the boundaries of the possible. It all starts with physical subjugation, for which the shires provide an endless supply of willing volunteers. But the foundations are there. As Lancaster said: "The players have worked hard to get to the level we expect of them." His challenge now is to use the next two years to improve the skills of these players.
"You've got people working hard for the shirt - pride in the shirt," Lancaster said. Lancaster has a strong production line but numbers cannot conceal deficiencies.
Joel Tomkins is an example of a player rushed up the line too fast, in the absence of Manu Tuilagi and Brad Barritt. Equally, Chris Ashton's eagerness to contribute cannot hide his inability to affect the direction of the game. His time looks up.
In large measure these autumn internationals have been about laying to rest the Six Nations slaughter by Wales in Cardiff. That crushing defeat is now less of a painful memory, though anything less than progress in this winter's tournament would have to be deemed a failure.
England beat Australia and Argentina and fought back from the edge of ignominy against the best team in the game. However good they are, the All Blacks are not sport's all-time No 1. Twice in a year the world champions have displayed susceptibility to English pressure, losing heavily 12 months ago and surrendering their hold on the game here at 17-3 up after 18 minutes. In one long phase of England dominance, Steve Hansen's invincibles failed to score for 32 minutes. Only by retaining the World Cup on this same turf, two years from now, can they fully adorn their present record of one defeat in 34.
Woodward's critique is accurate, but Lancaster would say his first-choice back division will be more creative than this one was. For now the England coaches can claim vindication for thinking the culture had to change to one of total dedication, and humility. "We set ourselves the highest targets," Lancaster said, without fear of contradiction.
Andy Farrell, father of Owen and England backs coach, declared himself "gutted and proud as punch". Sometimes, you can be both.