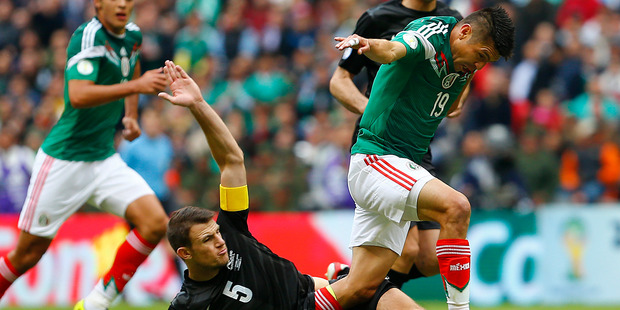 During early negotiations in planning for coverage of Wednesday's World Cup soccer qualifying game, Mexican television wanted to reconfigure Westpac Stadium in Wellington.
As well as having production crews situated as usual in the main stand, the companies wanted to base an entire production crew on the opposite side of the stadium.
It would have required a significant amount of work - though the Mexicans offered to cover the costs - and was eventually decided not feasible.
But it is a measure of the scale of interest in the playoffs, and despite the final result of the tie looking like a fait accompli, the Mexican focus on Wednesday's game remains huge.
El Tri hold a 5-1 lead heading into the second leg but coverage is still almost non-stop.
Numerous television crews have travelled to New Zealand, with one panel show (featuring four hosts) broadcasting live from the Wellington waterfront yesterday.
The game kicks off at midnight on Tuesday (Mexican time) but the build-up to the match will start as early as 10am on some television stations.
At least five full-scale television crews have made the trip Downunder, based in an independent compound outside Westpac Stadium.
There are also regular live crosses to various reporters on Fox Sports, ESPN, Televisa and other channels.
Stories have emphasised the lack of interest in Wednesday's game from locals, the "deathly quiet" streets around the Wellington city centre (quite a contrast to many cities in Mexico), the lack of history of the stadium and the weather prognosis.
There remains an obsession with the travel factor across all media as they continually discuss just how the Mexican team may be affected.
Through Mexico media, the team have maintained the stance that "nothing is decided yet" and they are, outwardly at least, wary of not allowing the All Whites to make a good start and get the crowd behind them.
Coach Miguel Herrera has emphasised his team is confident after the demolition job at the Azteca "but not over-confident and it all starts again at the opening whistle".
There remains uncertainty over what the New Zealand side will bring to the contest. One columnist remarked that the All Whites at the Azteca were a "caricature" of the team that had performed so well in South Africa, but it was possible they could bounce back.