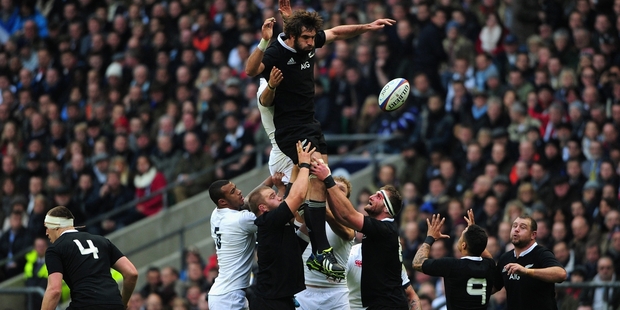 It was a test in which Sam Whitelock proved to be a major problem solver for the All Blacks, so it was probably appropriate that the lock said he could end up as an answer to more questions in the future.
Having celebrated his 50th test in the 30-22 win over England at Twickenham, Whitelock acknowledged the milestone would be well and truly overshadowed by Dan Carter's 100th.
In fact, he joked he could end up as the answer to a question on a "beer bottle top" in the future, as in "who celebrated his 50th test on the day Carter celebrated his 100th"?
If he does, it should be a relatively easy one to answer, because his was a memorable performance.
A major problem for the All Blacks as they sought, but failed, to capitalise on a brilliant start to this test was how to control their own possession while posing problems for England.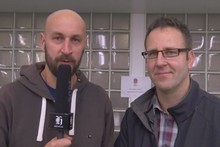 The answer, in the final quarter, was the lineout, where Whitelock, jumping at the back, became an extremely dominant figure, helped too by the injury to England hooker Dylan Hartley, who was himself celebrating 50 caps.
"It started to really come out quite well and I think that just shows the [strength of] the squad as a whole. We've got two forward packs putting pressure on each other and I think that helps us out," Whitelock said.
"It definitely helps when you can win your own ball. It helps your backline attack and at times it is really good when you come from a lineout and a couple of phases later Israel Dagg puts a wee grubber in and all of a sudden they've got a lineout 5m from their line. It helps us keep the pressure on them."
The breakdown has emerged as a major area of concern for the All Blacks, though.
Last week, against France in Paris, they struggled to win the turnovers they did in the Rugby Championship and this week they were penalised time and again by referee Craig Joubert, who didn't always appear to get it right.
At least for them the scrum, an area in which England would have scented blood, was better.
Hansen said: "We started to dig into their lineout ball - the quality of their lineout ball and the few scrums we had, we started to put some pressure on them. That was really pleasing from our point of view.
"Mentally we were in front a lot of the game and saw our lead slip away and when that happens that can prey on your mind but it didn't. The guys stayed with the process and stayed connected with each other and stayed on top."
After last year, it was enough for Whitelock to get any sort of victory at a place increasingly important for him. "I was lucky enough to have my first start here so Twickenham is special to my heart," he said.
- APNZ