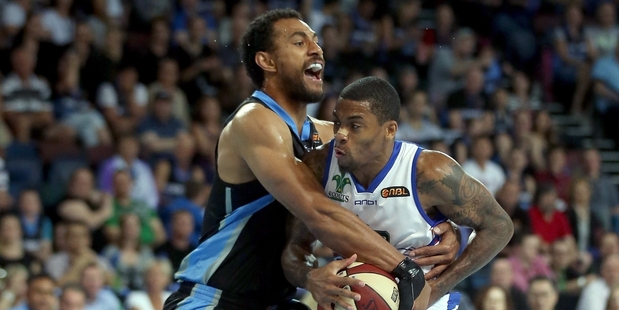 Friday's last-second loss to Adelaide offered a microcosm of what's gone wrong with the Breakers.
For all the disruption in the off-season, it's been an inability to close out games which has seen their record slump to 2-6.
Gary Ervin's buzzer-beater provided the most vivid example, but each of their six defeats could have been avoided had the Breakers retained one of their best qualities from their title-winning campaigns.
The Kiwi club were involved in plenty of close games throughout their championship run but, more often than not, they emerged on top, resulting in an average of fewer than six losses per season.
That total has already been equalled but it could have been a completely different story had they played at their usual impeccable level down the stretch.
The Breakers have been within five points with as many minutes left in all six losses.
The have led two late and been behind by one as the clock wound down in another.
"We haven't finished games off," said Dillon Boucher, who has assessed the abject start from a distance in his new role as corporate sales manager.
"It happened a lot the last three years - we've been in a lot of close games and won a lot of them. I think that's what people forget. The actual difference between winning and losing is not that much, it's just one or two possessions."
A couple of close losses can be attributed to bad luck or variance. But six straight instances points to a bigger problem. Or rather, a combination of problems.
There's the new rule interpretations hampering the Breakers from playing their usual brand of lockdown defence. There's a new coach in the huddle during late timeouts, one without an established record of success like Andrej Lemanis.
And there's the absence of Boucher, a serial winner, and Cedric Jackson, who has been replaced by a young point guard in his first year of professional basketball.
"Those points, they're all combined together," said Mika Vukona. "When you get all of them within one season, it's a no-brainer in my eyes - there's going to be a difference.
"It's frustrating because we're right there. It's not like we've been blown out by 20 or 30. In my eyes, no disrespect to the other teams, but it's felt like we're the ones that are losing the games."
Those losses have seen expectations readjusted. Another minor premiership is out of reach - Perth, at 7-0, may not lose more than a couple of games all season - but the finals are still well within grasp.
"Placings one and two always separate themselves from the pack but third and fourth are always going to be there," Vukona said. "That's why nobody in the club, especially in the playing group, are that worried about it.
"We're very disappointed with our record at the moment, it's not where we'd want to be at this point in the year, but there's no reason to panic."
- APNZ