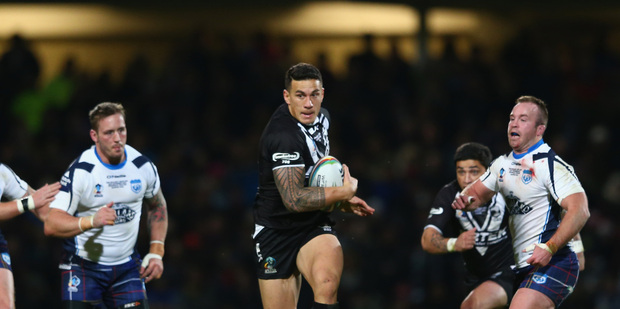 Usually you can rely on Sonny Bill Williams to light up a rugby or rugby league field with his brilliance.
Instead, an infamous "crusher" tackle almost sent the hopes of Kiwi fans spiralling in the World Cup quarter-final at Headingley yesterday.
SBW was on the end of the "crusher" which left him prone for a number of minutes while team-mates and officials rushed to his aid. Williams was on a searching raid into opposition territory and stayed down while concerned officials administered treatment.
The "crusher" involves the pushing of the ball carrier's head back into his torso, and has the effect of what the Australians also call a "stinger". It is an injury to the nerves of the upper arm and usually happens in the neck or shoulder. The pain can be quite intense and may feel like an electric shock down your arm. The pain is usually temporary, and the symptoms generally disappear quickly.
The tackle has been outlawed for several seasons in the NRL. Clearly shaken by the tackle, Williams took some minutes to regain his composure before getting to his feet to carry on.
It was a nasty moment for the 16,000 spectators at the famous ground, but fortunately everyone involved, including the officials, kept their heads and the game was incident-free.
It was also a strong warning to the Australian and England teams that New Zealand are going to be formidable opponents as they move forward into the semifinals.
Notwithstanding Williams' scare and the usual "bumps and bruises", the tournament has been largely free of serious injuries to date. And, the top three contenders - England, Australia and the Kiwis - all look ready to show their best football from here on in.
The judiciary has been hardly bothered and the most serious injury has been Australia's Luke Lewis' tangle with a dead-ball stanchion at Old Trafford in the second round of pool games.
New Zealand look well prepared, calm and tightly focused.
Stephen Kearney has had the benefit of blending his squad together nicely and apart from Tommy Leuluai, has got all his initial selections at his disposal.
Overall, this is shaping up to be a stellar tournament for the 13-man game.
A number of the minnows have also been outstanding with just enough experience to avoid the 100-point blowouts which have characterised these tournaments in the past.