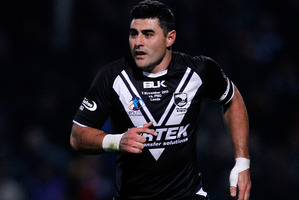 The Kiwis already have rugby league royalty in Sonny Bill Williams but they also have the son of a Lord.
Bryson Goodwin is son of 'Lord' Ted Goodwin, the former St George, Wests, NSW and Australia centre of the 1970s and early 1980s known for his elusive runs (he was involved in two famous S-run tries) and dancing feet.
The game has changed since those days and it would be difficult to imagine anyone being able to run through a team by going from one side of the field and back again and beating structured defences.
Bryson probably tried in his younger days, alongside his three brothers (two of whom have played NRL), and has fond memories of his childhood.
"It was good," Goodwin recalls. "Dad had finished playing when I was born but he always had stories and videos. He loved to tell them and show us all. It was good to watch. My brothers played as well so there was always footy around our house.
"He never put any pressure on me. He always said to do my best and to have fun. That's all."
Goodwin didn't have much fun last year. Initially he thought he was suffering a heart attack after a relatively innocuous challenge with Cronulla's Matthew Wright during a match. After passing blood in the dressing room, an ambulance was called and he had a seizure as he arrived at the hospital.
It was found Goodwin had ruptured his spleen and he spent three days in intensive care, three weeks in bed and nearly three months at home recuperating.
Thoughts of playing rugby league again were parked as he lost about 10kg, let alone thoughts of playing in this year's World Cup.
Goodwin was not only selected in the Kiwis' 24-man squad but is now first-choice left centre and, barring any mishaps, should play out the rest of New Zealand's campaign. He scored a double against Scotland yesterday in a good display.
"I'm pretty happy to be where I am right now," admits Goodwin, who played four tests for the Kiwis in 2009. "When you get an injury like that, you think about what's important in life. I didn't really think about playing again because all I was worried about was getting better at that time. I was pretty sick and sore.
"I was assured everything would be fine so I was able to keep playing, and I wanted to do that."
It wouldn't be at the Bulldogs, where he had spent four seasons. They had recruited Krisnan Inu and Sam Perrett in his absence and marched their way to the grand final. Instead, he found a home at the Rabbitohs and it also saw a positional change from the wing to centre.
"I played a little bit there when I was younger, a couple of reserve grade games," he says. "It just sort of happened. [Souths coach] Michael Maguire just threw me in there and it worked. I really enjoy it. You get a bit more involved in the game."
He had a good season at Souths, scoring 10 tries in 25 games but the team fell one match short of the grand final. The Rabbitohs built their season around a dominant pack, the darting runs of hooker Issac Luke and brilliance of fullback Greg Inglis.
It's not too dissimilar to how the Kiwis are playing at the World Cup, although New Zealand have a few more weapons out wide and greater direction from their halves.
Goodwin didn't have a great start to the World Cup, when Samoa found joy attacking New Zealand's left edge, but has improved as the tournament has progressed.
"I'm thankful [for the faith the coaches have showed in me]," he says. "I just had a bit of an off-night that night. I wasn't really there."
He's loving the fact he is, because 18 months ago it didn't look like he would be anywhere near the World Cup.
- APNZ