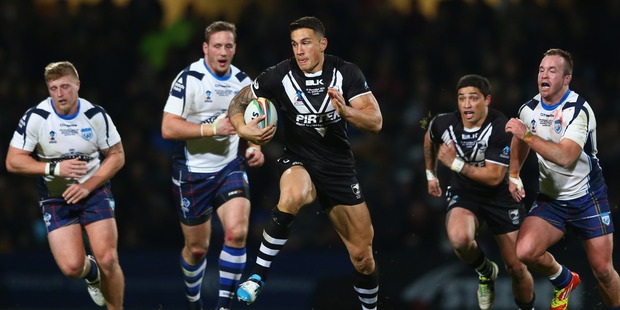 It was impressive Scotland five-eighth Danny Brough who uttered the words Kiwis fans wanted to hear: "I have just been in to see him and he's all right, so don't panic."
Two hours earlier, Sonny Bill Williams had been lying prone on the pitch at Headingley, having had his head pinned against his neck in an awkward tackle. He played most of the first half in New Zealand's 40-4 defeat of Scotland yesterday morning but wasn't sighted in the second half as coach Stephen Kearney realised he needn't risk his prized asset.
"He would have been a bit uncomfortable if he kept playing but he will be fine," Kearney said. "He will be fine next week, let me put it that way."
Williams is not the most important player in the Kiwis line-up - hooker Issac Luke is the one player they can't do without, with Kieran Foran not too far behind - but he is special and New Zealand want all of their weapons available as they head into the crunch end of the competition, starting with a likely match-up with England at Wembley next weekend.
The official word was Williams had a minor upper back sprain and would be reviewed late last night. There was probably more concern about winger Manu Vatuvei, who came off late in the match with a groin strain. Vatuvei's knee has been giving him grief in this tournament but his groin tightened during the match and he was visibly uncomfortable at the end as the teams walked around to thank the crowd.
Vatuvei was excellent throughout the match, running hard with every carry and scoring a try - but he was overshadowed by right winger Roger Tuivasa-Sheck who was brilliant in his man-of-the-match display.
The pair weren't the only ones to shine. The Kiwis had been looking for a more complete performance after three good, but sometimes patchy, ones in their pool games; they delivered. They mixed in dollops of pace and power with a sprinkling of solid defence and a dash of the spectacular.
"If I wasn't the Scotland coach, I probably would have stood up and clapped some of the tries they scored," Steve McCormack said. "They were awesome."
The lingering doubt is whether that will be good enough to beat England and then go all the way. The Kiwis haven't been put under sustained pressure in this tournament and facing the home side in front of a full house at Wembley will be an entirely different proposition.
Tackles were broken that may not be against England.
To their credit, the Bravehearts tried to take the game to New Zealand; Kearney said afterwards it was exactly what he had hoped for.
"For me, that's what we are after, to be challenged like that. We anticipated that. I thought the lads took up the challenge of defending their tryline really well. It's been a challenging week. Everyone had an expectation we would win [against Scotland] and it's sometimes hard to ignore the perception on the outside. I could sense with the lads early in the week it was midway in the tournament and it was hard not to look ahead to next week, so it was a bit challenging but they handled themselves really well."
They will set up camp in London tonight after watching the All Blacks and then finding out how much England beat France by in their quarter-final.
England have been gaining momentum throughout their campaign as well - with the benefit of a tough game against Australia - and have a powerful pack led by the Burgess brothers and James Graham.
Kearney has settled on most of his side for that match but still has decisions to make on fullback - Josh Hoffman is likely to return but Kevin Locke was good against Scotland - and which four props to pick.
Fortunately, a No12 who goes quite well should be in there, too.
- APNZ