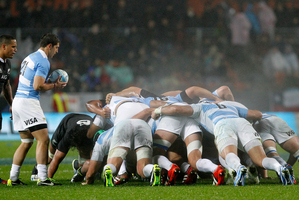 From the ridiculous to the more ridiculous, the IRB have little chance of the sublime this week in Dublin where they are expected to take baby steps towards instigating a global season.
Rather than just crack on and vote in favour of shifting the current June test window to July, the IRB board will instead - maybe - agree to set up a working committee to look into the possibility.
It's classic IRB - renowned for moving at glacial speed, they are clearly going to drag this issue out to the point where the opportunity to act may be lost. The vexed issue of creating a global season has been on the agenda for more than a decade. Each time there has been no positive outcome - the complexities of existing sponsorship and broadcast arrangements and the diverse needs and views of the member nations have seen talks crash.
But there is a prospect of making a significant change - if the IRB can act swiftly. A number of existing commercial deals for domestic and international competitions are due to expire in World Cup year, creating an almost clean skin for 2016.
The proposal put forward by the International Rugby Players' Association is to shift the season by one month - for the Southern Hemisphere sides to host in-bound tours in July rather than June. That would allow for Super Rugby to be played in one continuous block and for players in both hemispheres to have a longer off-season.
Making it happen will require compromise from both hemispheres but it's achievable and, of all the propositions, this is the one that has the most hope of success.
The IRB are clearly stalling, however, and frustration at their inability to decide will become painful for players and fans.
To highlight that, England will be forced to play the first of their three tests in New Zealand next year with a weakened team. The tyranny of the calendar has meant that once again the final of the English domestic club league will be played the weekend the national side is scheduled to leave for New Zealand. As a result, those players involved won't be available for the first test.
"It is frustrating," says All Black coach Steve Hansen. "More so, I think, for the players because we are asking them to do more and more and more and we are not giving them the opportunity to get rid of the niggles. If you can't get rid of those niggles in the off-season, then you will have them for the whole season.
"Players then end up playing at 80 per cent to 90 per cent of what they could be playing at. So to get an off-season of 12 to 16 weeks like they do in all the other contact sports would allow that to happen."
Hansen is not alone in his views. Every international coach agrees. Every test player agrees and yet there is resistance among administrators.
The NZRU had been hoping to see more enthusiasm for the shift when they attended a CEOs IRB meeting earlier last week. The appetite for change was lukewarm, which is why hope is only minimal that there will be any dramatic progress this week.