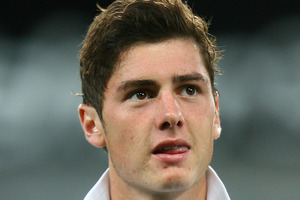 Marco Rojas hopes to start in Wellington on Wednesday - and if the All Whites are to have any chance of redemption, he probably should.
The New Zealand midfielder was on the bench at the Azteca after being out with injury for most of the last few months. It was understandable that he wasn't considered a 90-minute proposition last Thursday but the All Whites can't afford to leave their best attacking weapon on the bench at home.
"It was a relief to get out there after so long," said Rojas, who made an instant impact in Mexico. "It would be great to start in Wellington and I hope I can force my way in."
He should be one of a number of changes for the second leg. Storm Roux will come in for the suspended Leo Bertos, while Chris James is a certainty to replace Jeremy Christie in midfield. Shane Smeltz, New Zealand's most intelligent player in the attacking third, must also be included.
It would be dramatic by his standards but Herbert may be tempted to change formation. The All Whites were swamped in midfield last Thursday and switching to a 4-5-1 may allow them to match up better against the versatile Mexican team.
"Keeping the ball is first and foremost," says former All White Simon Elliott. "You have to have plenty of options. If everything is short, it is very easy for them to step on you and close the pass. You need to create options wide and long."
"We need players with the ability to retain possession and create chances," says former All Whites captain Steve Sumner. "We also need to put pressure on Mexico all over the park; high-pressure stuff that suits our players more than sitting off - that often invites trouble."
That was one of the strangest aspects of Thursday's match. The All Whites played like a continental side on defence, standing off the Mexicans, rather than their typical high-pressure game. They were wary of the effects of altitude but took the cautious approach too far.
Of all the post-mortems after the game, a Mexican journalist, on the Fox Sports programme La Ultima Palabra (The Last Word) seemed to sum it up best: "[New Zealand] looked like a team that were years behind what we had seen at the 2010 World Cup," said the analyst. "I expected to see that they had evolved a lot over the last four years but it didn't show. I know they lost their captain but still..."
The Mexican team are already emphasising a careful approach in Wellington, wary of the weather, crowd support and effect of jet lag.
El Tri will likely be content to allow the All Whites more possession, encourage them forward and then try and capitalise on the counter-attack. The first goal will be crucial. If scored by the home side, it would be an incredible lift but if the Mexicans go ahead, it will be deflating for the crowd.
"It would have been better to be 5-0 than 5-1 but with this score, we have a lot of confidence," Mexican captain Rafael Marquez said. "If we keep working, we can finish the job there. We knew the first goal on Thursday would be crucial to break them open [and] also the altitude affected them a little as well."