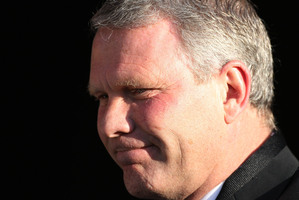 New Zealand Football will need to offer a salary of at least $350,000 to attract an experienced, quality overseas candidate to replace Ricki Herbert.
Despite the large cash injection from the sale of television rights for the game on Wednesday (estimated at more than $5 million), that figure would still represent a significant annual burden for the national body, for what is essentially viewed as a part-time position.
The reserves from the 2010 World Cup prize money are ebbing away. NZF funds more international teams than any other national body in New Zealand sport and has limited means of revenue generation, as most All Whites' fixtures are loss-making ventures.
Herbert was famously earning only $50,000 per annum when he took the All Whites to the 2010 World Cup. His stipend has since increased but is still thought to be significantly less than $200,000.
Around A$300,000 ($337,000) is believed to be the minimum salary for A-League coaches, while new Socceroos coach Ange Postecoglou was on A$600,000 ($674,000) at the Melbourne Victory.
The global nature of football is a double-edged sword. There are hundreds, perhaps thousands, of professional coaches on the market but you have to pay for quality.
As well as the budgetary limitations, identifying the right replacement for Herbert is a complicated task due to the lack of experienced local candidates and the unique requirements and challenges of the role.
What Herbert said after the first leg in Mexico ("If somebody else does come in, they are going to find out what a tough job this is") carried some truth. The New Zealand coach has to deal with travel demands that don't exist in almost any other nation.
Due to our geographic isolation, it has become increasingly prohibitive for NZF to stage matches at home against top-level opponents (the Jamaica match in 2012 cost around $500,000). The team has to criss-cross the globe to find games, hence some crazy schedules, like in 2011 when they played Mexico in Denver then Australia in Adelaide in the space of five days.
The next coach will also have to work with an organisation that has displayed serious planning limitations; the fact the All Whites ended up playing a semi-professional 'park football' team (Ventura County Fusion) and the reserve/youth side of a struggling MLS club (Chivas USA) as their build-up before going to the Azteca reflects badly on NZF, who had years to prepare.
NZF has also been spread too thinly. With due respect to the age group sides and women's football, their major focus this year should have been the All Whites. They are the shop window, they can bring international money and profile to the sport but they were treated as just one of New Zealand's many international teams.
There aren't any obvious local candidates. Neil Emblen is not yet experienced enough nor are any of the other current national age group coaches. Football Ferns coach Tony Readings is highly rated but would have to make the transition from coaching females to managing male players. Auckland City coach Ramon Tribulietx has one of the best tactical brains in the country and a good eye for talent but it would be a huge step up from the ASB Premiership.
Identifying a suitable overseas candidate is a tricky process. The Phoenix, in their search, were inundated with hundreds of CVs from across the globe, including men who had coached in the English Premier League and other top European leagues. But they either demanded outrageous (by New Zealand standards) money or failed to give an impression they were interested in being based here long-term.
Australia have a huge amount of resources but have been unable to find an adequate replacement for Guus Hiddink, who cost megabucks. Dutchman Pim Verbeek was replaced by German Holger Osieck, who was on an estimated salary of A$1.5 million ($1.69 million).
NZF has also had disappointing experiences with foreign coaches. Joe McGrath promised the world but resigned after nine games, while the well-regarded Bobby Clark was lured to a rich American university after little more than a year.
That is not to say there are not great, affordable coaches out there. Many European, Central American and South American coaches would see the role as a great opportunity, especially with the chance to coach at the Confederations Cup and be involved in a potential two game play-off for the World Cup. Taking the New Zealand team would be a chance to prove yourself on the international stage.
NZF needs to identify an overseas coach who can adapt culturally, handle the unique challenges of the role and commit for the long term or take a punt on a local with potential. Herbert was relatively inexperienced when he took the role in 2005.