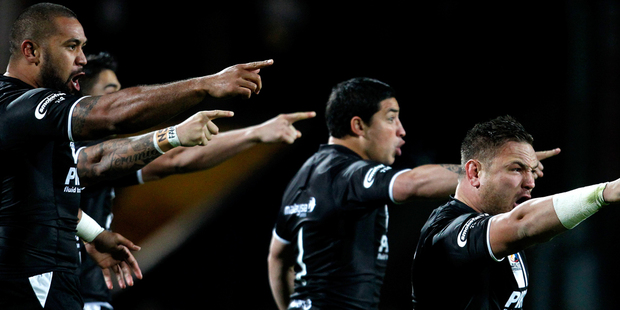 Herald rugby league writers Michael Brown and Chris Rattue answer three key questions from the Kiwis 40-4 quarterfinal win over Scotland at the World Cup this morning.
Was this the perfect performance the Kiwis had been looking for?
Michael Brown: No, it wasn't perfect but it was certainly a very good one. They were powerful, clinical and scored some tremendous tries. But their completions were still low (68 per cent), they gave away a few penalties and they probably didn't put the foot down when they really could have. They also still haven't been put under sustained pressure and Australia and England are at something of an advantage having played each other and seeing what they have.
Chris Rattue: Perfection isn't possible against B-grade opposition. Questions will always be left unanswered. For example - Bryson Goodwin had a very good game but on previous form, there is still room for doubt that he can repeat that against a better side.
Thomas Leuluai is out and SBW and Manu Vatuvei are now struggling with knocks. Does this Kiwis squad have the depth to go all the way?
Michael Brown: Williams should be fine and probably would have played on had the game been on the line. Vatuvei strained his groin (his knee was actually OK) and there is a fair bit of concern about that. The Kiwis have really good depth, except at hooker and in the halves, but they don't want to be without special players. Everyone knows how good Williams is and Vatuvei was excellent tonight before he came off late. Jason Nightingale is a handy player to have waiting in the wings (yes, pun intended) but isn't on the same level as Vatuvei and Tuivasa-Sheck.
Chris Rattue: The players they can't afford to lose - which has been the case from day one - are Issac Luke and Kieran Foran. Everyone else can be covered although without Leuluai as backup, Shaun Johnson is precious as well.
What is the key to winning a (likely) semi-final against England next weekend?
Michael Brown: Completions, defence and building pressure. They have enough ball players to trouble any side in the competition but it will be the team who do the basics the best who will win the World Cup. They need to be relentless against England, who are also building momentum, and not let the crowd get into the game.
Chris Rattue: Making ground through the middle and containing Sam Burgess. If the Kiwis lay a good a good platform, they will win. But if Burgess is allowed to hit his straps, he will lift the whole English performance.