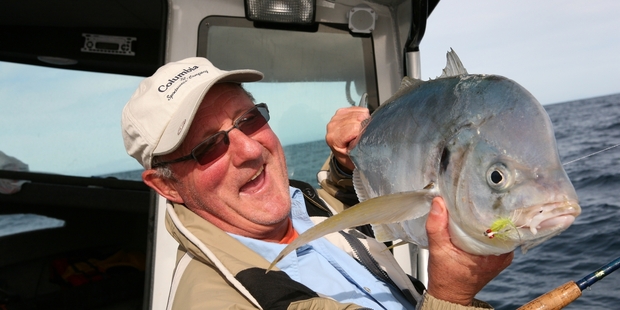 A unique fishing contest next week is an opportunity for families to go fishing and win a prize. Called the Big Fish Fishing Club Ten-Pound Contest, the object is to catch a snapper close to 10 pounds in weight, which is 4.545kg. This removes the incentive to target big snapper and gives everyone an equal chance of winning.
The event is on Sunday the 24th, and starts with a shotgun start at 6am at the Big Fish Bait and Tackle shop in Cascades Rd, Pakuranga, and entrants must be back at the Bucklands Beach Yacht Club by 5pm for the weigh-in.
There is also a prize for the kahawai which is closest to three pounds (1.363kg), and anybody could catch such a fish from a wharf or off the rocks as well as from a boat. Information regarding entries can be obtained from the shop (09 576 2764).
Another contest last weekend saw snapper over 10kg caught between Port Jackson, at the top of the Coromandel Peninsula, and Tryphena, on Great Barrier Island.
It is interesting that all the big snapper were caught on squid, rather than fresh bait like mackerel. This might have something to do with the propensity for snapper to feed heavily on squid when preparing for spawning.
But it is not necessary to go so far to find fish at the moment. There are snapper all through the Tamaki Strait, including some fish around 4.5kg, and kingfish are in good numbers around the bottom end of Waiheke Island. One boat landed six kings in the Ruthe Passage last week, and the popular spots like Gannet Rock and the Pakatoa Reef will be worth fishing.
Another feature of fishing at present is the prevalence of trevally. There are good numbers in the Motuihe Channel, and they can be caught on regular baits like chunks of pilchards drifted down the current. But they prefer shellfish bait, or lures like soft baits and jigs.
Once regarded as good only for bait, trevally are highly regarded for sashimi, smoking, or as fish and chips. Some people also like to poach the fillets in milk. But they do have soft mouths and the hook can tear out when lifting a fish into the boat, so a net should always be used.
Freshwater
Harling is picking up at Lake Taupo, which is good news for trout anglers after recent seasons of quiet smelt activity. But it is all over by 9am, so it is important to be on the water at first light. The traditional harling rig is a long trace of about 15 metres of light monofilament, perhaps 3kg breaking strain, connected to a section of fast sinking line which will sink to two or three metres. Some people use old fly lines, but a section of 10 metres of lead-core line spliced to backing will also work well.
Flies are smelt imitations in small sizes, which could be yellow lady, green orbit, parsons glory or grey ghost. Two flies can be rigged. Large diameter single-action reels like those for deep trolling make retrieving the line more efficient than small fly reels. The trick is to follow a drop-off or the edge of a weed.
Jigging in deep water has also improved after a quiet period, and dry fly fishing in the evenings on the Tongariro River is popular. It should not be long before large brown trout move into the lower reaches of the river, which provides exciting fly fish-ing stalking the banks and spotting the shadows lying close to the edge.
The browns are there to take advantage of the cicadas which fall into the river, and a large dry fly presented carefully can provoke a strike.
Tip of the week
An effective way of immobilising your boat and trailer is to remove a wheel and lock it away separately. The chances of a thief having a spare wheel with the corresponding size and stud pattern are remote.
Bite times
Bite times are 11.50am today, and tomorrow at 12.10am and 12.35pm. These are based on the moon phase and position, not tides, so apply to the whole country.
More fishing action can be found on Rheem Outdoors with Geoff, 6.30am Saturdays, TV3, and at www.GTTackle.co.nz.