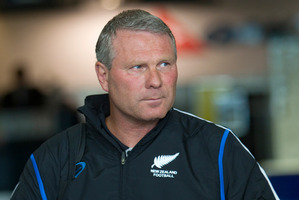 For all his defiance in the wake of the Azteca Stadium humiliation, Ricki Herbert must go. It's only partly for events on Thursday.
Without wanting to sound the smart alec after the event, placing his faith in a 37-year-old well past his best - and two players who aren't playing club soccer - at stressful, sapping altitude was asking for trouble.
Ceding the midfield, sitting back on their haunches hoping to see off waves of Mexican attacks, was never going to work for 90 minutes.
Certainly Herbert's hands were tied by a hopeless preparation programme for the All Whites for which New Zealand Football has no excuse, and which could have far-reaching consequences.
This was a ghastly result which could have been foreseen, if perhaps not the full scale of it. Without Glen Moss performing wonders in goal, it would have been far worse than 5-1.
Even captain Tommy Smith admitted the tactics and game plan were wrong. That suggests the players didn't have much confidence in the instructions they were sent out with.
There's another reason Herbert's time is up. He took charge in 2005, replacing Mick Waitt, whose name most will have forgotten. So he's had eight years running the cutter. That's long enough.
Even if the Miracle of the Cake Tin does happen next week, and the All Whites somehow get over the Mexicans, that view won't change. Herbert has had his time.
And yet this isn't even about Herbert; it's coaching life. No one can, or should, stay in the same job beyond a certain period.
For a start, their voice, their message, loses resonance with the players over time. Players need a change in the verbal delivery and thinking, or staleness sets in.
Herbert's reluctance to confirm he's going after next Wednesday night is understandable. No coach wants to depart on a low, to be remembered - in the charmless Dennis Conner's words - as "a loser".
Coaching's a funny business. Graham Henry was gone for all money after the wretched, witless 2007 World Cup quarter-final loss to France.
Mais non, said the New Zealand Rugby Union. Henry the (potential) has-been became Sir Graham and life hasn't been the same. Sir Steve, Sir Richie, Sir Israel, on and on it'll go.
Herbert argues he's worked with what has been at his disposal. To a point that's fair. New Zealand soccer isn't exactly flush with attacking talent.
But Herbert teams have too often seemed short on positive intent. There's only so much backs-to-the-wall that a public can accept.
To barely make a nod to putting any sort of squeeze on the Mexicans smacked of hoping to escape with a scoreline they could live with in Wellington, and nothing else. That's depressing.
New Zealand Football will be wrong if they decide to hang on to him. It's part of the game. Coaches come and go. Herbert has had a long innings with some genuine, spine-tingling success to reflect on. Thank him for his efforts and move on.
In the past five years he's had two sharply contrasting World Cup experiences.
It's someone else's turn.