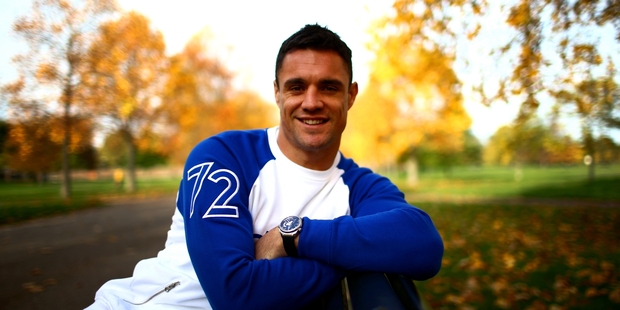 Of all the tributes paid to Daniel Carter this week for his 100th All Black test, none will mean more to him than that made by Jimmy Cowan.
Cowan isn't just a former teammate. He isn't just a former, long-serving halfback partner. He's a dead set mate - and proud to be one.
Their paths had crossed plenty growing up - Cowan in Southland age-grade cricket and rugby sides, Carter in South Canterbury's. When they first properly met, playing for the New Zealand Colts, they hit it off straight away.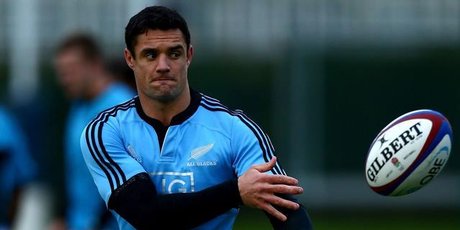 But it was when Cowan stared into the abyss in 2008 that he knew their relationship had transcended from collegial to almost familial.
Cowan's contract was on the verge of being terminated. Alcohol had become a problem - a masking agent to deal with the grief of losing a cousin. He was in a dark place back then.
"Daniel was the first guy to ring me," says Cowan. "He was the first guy to take me out for coffee and I could talk to him. Open up to him and feel like I could tell him anything. He is a genuine bloke - he has a high regard for people and I'm just bloody proud to call him a mate. And I think we are mates. Good mates."
Carter has always come across as the boy next door: a wholesome lad from the sticks. Genuine salt of the earth - a product of a classic Kiwi upbringing where manners and respect mattered.
In the increasingly corporate and cynical world of the All Blacks, some might wonder whether this image is in some way contrived or manipulated.
"Nah mate," says Cowan. "What you see with Daniel is pretty much what you get. He's an inspiration. He plans his week meticulously. He knows what he wants to achieve and yet he has balance. He flicks this switch. He enjoys a beer and in the summer he enjoys himself but he works so hard. He's got so much talent and there are no real secrets about him. Like I say, he's a genuine bloke."
Carter's discomfort level has been high this week. He's survived this long in the All Blacks by adhering to the ethos of team being bigger than all.
He's anxious for this one game - a big game for the All Blacks - to not be all about him. But it is is going to be, for the nation feels deeply protective of him. He is, packaged in a tight little bundle, a piece of New Zealand that can be proudly taken anywhere.
No doubt mothers up and down the country secretly, or possibly not so secretly, aspire for their sons to be similarly humble, measured and successful.
Perhaps, too, they hope for their children to appear so at ease with it all. That's been Carter's greatest asset over the years - success has sat so easily with him. It hasn't changed him or left any indelible mark. The boy next door remains the boy next door and yet, the perception of Carter as infallible, as unflappable and psychologically impenetrable may not be the reality. He is more like a duck than anyone realised in that beneath the surface, his legs are frantically kicking in stark contrast to the calm appearance.
Who would have guessed that nerves have been an affliction for Carter? That in his first test he was almost paralysed by them: the referee having to tell him to hurry it up with his first kick at goal.
"It was because I was really nervous," he admits. "I was concentrating so hard. I didn't want to miss. I didn't want to put a foot wrong.
"That was my first chance to get my first kick. In my first game for the Crusaders I missed the first couple because I was so nervous I rushed them. I deliberately wanted to take my time. A lot of people think I don't get nervous because of the way I carry myself. But I do."
Interestingly, his debut in June 2003 was against Wales in Hamilton - who at the time were coached by Steve Hansen. It's fitting that Hansen is now Carter's coach and 99 games later, they are on the same side.
Fitting because Hansen has been a huge influence. Probably more than any other coach, Hansen has understood the essence of Carter. He hasn't pushed him too hard; hasn't used external factors to gee him up. He's simply challenged Carter to be the best he can be.
On the night Carter made his debut, Hansen saw enough to be convinced he'd witnessed what could be the beginning of a great test career.
"He went to the same school as me for about the same amount of time. I knew in his earlier career he played for Southbridge but his first senior club was Old Boys and when I was the coach a lot of people were talking about him and telling me about him.
"I had seen him play for the under-21s or under-19s in South Africa along with Luke McAlister. He was a pretty special player even back then playing second-five most of the time. He proved that on debut in Hamilton."
So here we are now with Carter on the verge of making history. Neither Cowan nor Hansen are surprised. Both knew early that Carter was destined for greatness. All they hope now is that he delivers a performance that appropriately marks the occasion.
"I think I'll get up to London after the game," says Cowan. "It would be rude not to. I'm playing in the afternoon but I want to have a beer with him, help him celebrate what is an incredible achievement."
Carter's career highlights
Carter's favourite test
Debut v Wales, June 2003
"It is my test debut without a doubt. The 99 test matches I have been involved in, my favourite and most special one is my debut. It is hard for it not to be and a lot of players would probably say number one. It was where it all started. It was such a big stepping stone for me. I still have fond memories of that day."
Carter's best test
2nd test v Lions, July 2005
"In terms of performance - there have been other games where I feel I have played exceptionally well - but for a full 80 minutes it is up there. Scotland last year was right up there, and a few others have been close, but if you were to ask me which game I think I have played best in, it would probably be that one."
On making his 100th appearance
"If I had my preference it would be back in New Zealand. In front of friends and family but that is not the case and Twickenham is not a bad place. It is the home of rugby and it is an amazing place to play footy. I'd much rather get the win than celebrate my 100.
"So for me the priority is getting out there and doing what I can for the team."