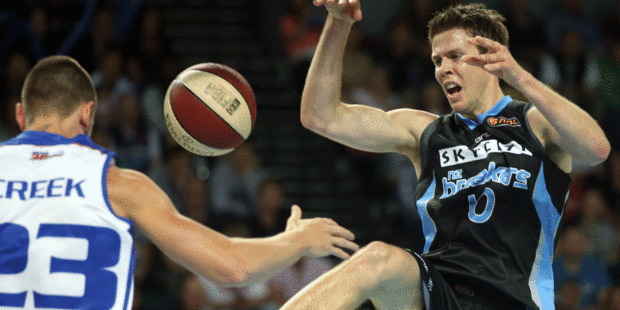 Breakers 94
Adelaide 95
Just when they thought it couldn't get any worse, the Breakers found a new way to lose a game.
After a dominant third quarter gave them a lead they looked all but certain to retain late, the Breakers' already-abject season suffered another blow right on the Vector Arena buzzer.
Leading by one with four seconds left and needing to just wind down the clock, Kerron Johnson turned over an in-bounds pass and Adelaide's Gary Ervin streaked away for a game-winning buzzer beater.
Cruel doesn't begin to describe the defeat. The three-time defending champions finally gave a glimpse of their former selves, demonstrating a resolute defence to edge in front and create the chance to grab a much-needed victory.
But then Ervin changed rewrote the narrative, leaving the home side too stunned to move and staring vacantly at a suddenly silent crowd. No one seemed to know quite what transpired, except for Ervin, who had predicted the exact outcome.
"At the last timeout,'' said Adelaide coach Joey Wright, "Gary told me he was going to steal the ball and lay it in.''
It was a loss made all the more galling by the way the Breakers (2-6) had appeared to turn a corner in the third. After their typically-explosive offence looked to again be let down at the defensive end, the champs finally managed to stop the bleeding.
But Adelaide (6-2) remained in touch and forced Johnson to err, though Dean Vickerman wasn't about to blame his young point guard.
"I had a quick look back at the play and we didn't screen as we were supposed to screen,'' he said. ``That's an execution error for us.''
There were positives. Mika Vukona finished with a double-double of 17 points and 11 rebounds, while Alex Pledger (11 points, 11 boards) matched the feat. Tom Abercrombie with 21 and Johnson with 17 completed the quartet of starters in double figures.
But none of those men will be trumpeting their contributions.
It all started so well for the Breakers, too, with a noticeable lift in intensity marked by Abercrombie's back-to-back threes in the opening 90 seconds. Vukona exemplified the energetic approach with a furious first shift, showing his strength in the paint to score six points, grab five rebounds and draw four fouls.
But Adelaide took a two-point lead into the second quarter and quickly increased their advantage to eight, before the Breakers came storming back with a 12-0 run.
Stretches like that provided evidence that the Breakers' offence was willing to carry the load but their defence was still letting them down, giving up 50 points in the half to trail by four.
The defence certainly responded in the third quarter, conceding just four points in the opening five minutes to allow the Breakers to grab a game-high nine-point lead.
Unlike the previous occasion the Breakers put together a dominant stretch to get their noses in front, this time the champs consolidated their advantage, looking after the ball better and heading to the final quarter seven points to the good.
But this Adelaide side is a long way removed from last season's strugglers and, try as they might, the Breakers couldn't shake them. It was a one-point game in the dying seconds when Daryl Corletto buried a couple of clutch free throws which appeared to clinch it ... until the unthinkable happened.
Breakers 94 (Abercrombie 21, Johnson 17, Vukona 17)
Adelaide 95 (Ervin 26, Johnson 20, Frye 12)
HT: 46-50
- APNZ