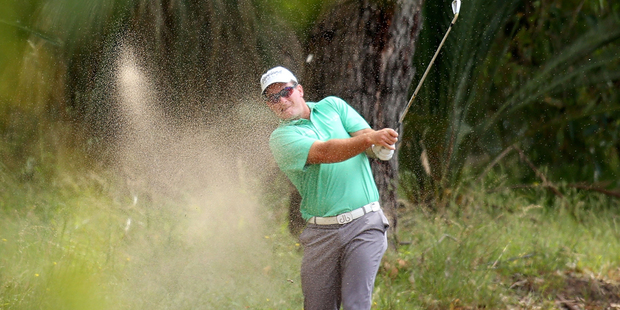 Ryan Fox said a chat with his father was just what he needed to turn his game around.
The 25-year-old Auckland professional, who is the son of All Black great and current selector Grant Fox, turned his game around in fine fashion in round one of the Australian Masters yesterday.
The former New Zealand Eisenhower rep, who had his Dad caddying for him, said a few words of wisdom from his World Cup-winning father was the difference in his opening three-under par 68 at Royal Melbourne that has him in a share of fourth place.
"He has played sport at the top level and I have been struggling mentally and he knows what that is like,'' Ryan said of his Dad.
"He went through that in his career. It was nice to have him out there and try to have some fun on the golf course.''
It was a timely turnaround for Fox who is fighting to keep his card on the PGA Tour of Australasia.
Fox, a two-time Fiji Open Champion, hit 17 greens on the famed Alister McKenzie layout to be three shots back from round one leader Australian Nick Cullen.
"I am really happy. It is the best I have played for a little while and the best I have hit it for a while as well. It was nice to get a score going and see some putts drop. It could have even been a bit lower.
"Hitting 17 greens was probably the highlight of the round and around here that helps. If you can put yourself on the greens you give yourself good chances at birdie and I managed to do that.''
The big-hitting Fox, who won the Jeep Pro-Am in Queensland earlier this year for the biggest win of his career, feels like he has been putting too much pressure on himself.
"My expectations are probably a bit too high and I am taking it a bit too seriously as well. I am worrying about where I could hit and not where I want to hit it. There has been too much clutter in my head and [the first round] was all about trying to have some fun again.''
Fox said that he has grown up wanting to compete in a big event on the famed Royal Melbourne layout.
He is a member at Royal Auckland, which offers reciprocal rights at Royal Melbourne, and he hears the stories from the members who travel across the ditch to play the world-class layout.
"It is a dream to be able to come here a few years ago for the Master of Amateurs but we never got to play the composite course. It was pretty special to play the composite course.''
Meanwhile, Mount Maunganui pro Josh Geary continued his good form with a one-under par 71 to be tied 23rd and Wellington pro Mark Brown (72) is tied 29th.
Steven Alker, Brad Shilton and Michael Hendry all carded rounds of one-over par 73 to be in a share of 38th place.
Meanwhile, over in Japan David Smail has carded a one-under par 71 at the Taiheiyo Masters to be in a share of 30th place.
The 43-year-old is currently 46th on the money list and needs to finish inside the top-70 players to keep his card.
In Mexico, Tim Wilkinson and Danny Lee have made a solid start to the OHL Classic at Mayakoba on the PGA Tour before play was suspended due to inclement weather.
Wilkinson, who has missed the cut in his opening two events for the 2013-2014 season, is one-under par through 13 holes to be in a share of 13th place.
Lee, who has made two cuts from three tournaments so far in his return to the PGA Tour, is even par through 12 holes to be in a share of 24th place.
- APNZ