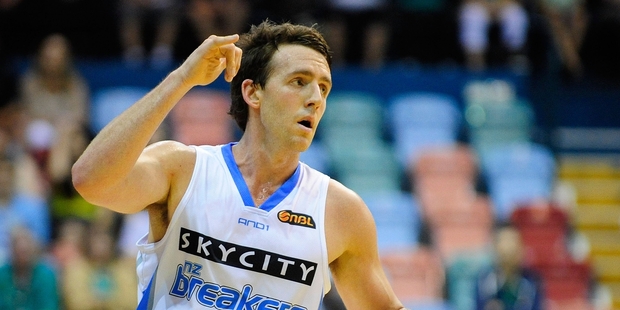 While their sorry start to the season has caused serious damage to their championship defence, the Breakers could also be in danger of ceding another title.
All the goodwill engendered in previous seasons - with tough but fair tactics on-court matched by an amiable approach outside the lines - has begun to slip away, with their nice-guy reputation threatening to be replaced by a less desirable tag.
Speaking before tonight's encounter with Adelaide at Vector Arena, Daryl Corletto may have had a point when he alleged the Australian NBL changed the rules to hamper the Breakers' hopes, but that itself is beside the point.
And a couple of his teammates hardly helped matters by retweeting a story with Corletto's comments, featuring a headline: "NBL trying to sabotage Breakers' run".
Perhaps such accusations could have had more credence were they delivered with a little more tact at the start of the season, instead of voiced so bluntly now, after his side has suffered five losses in seven games.
There won't be much sympathy for Corletto across the Tasman. Rather, there will be a view that the gracious winners have become sore losers.
The rule changes have certainly inhibited the Breakers' approach. Their dynasty was built on a hard-nosed defence, wearing teams down and grinding out wins in close games. The tougher the game, the tougher the defence - just look at any of the Breakers' battles with Perth in recent seasons.
Now they have been hamstrung by new refereeing interpretations which preclude overly-physical contact. But every other team seems to have adapted adequately, including pace-setters Perth, another formerly unafraid to trade blows down low.
Before the season, Breakers general manager Richard Clarke disagreed with the notion the league was attempting to limit the powers of the Breakers and the Wildcats, a rivalry which had become a duopoly in the eight-team competition.
Instead, it was accepted the alterations were made in search of an improved product, one easier to sell to television audiences.
That view has remained prevalent among visiting coaches and players, while accepting there will be teething problems as teams make the requisite adjustments to how games are being called.
And therein lies the real problem - try as they might, the Breakers have so far been unable to make those adjustments.
They are second in the league in fouls. Mika Vukona - one of the leaders of their once-feared rearguard - has fouled out three times. Tom Abercrombie has continually found himself in foul trouble.
Something has to change, sooner rather than later, and it won't be the referees' interpretations.
"There's no excuses - the game's being called the way it is," said coach Dean Vickerman. "I've felt like we've made good adjustments in those areas, to get our hands out, and there's just some body contact that we've got to tidy up now."
Vukona admitted he was struggling with his fouling, and it was something he needed to minimise, but it was also a topic he wanted to stop discussing.
"We don't want to address it any more. The more you talk about it, the more you point an onus on it, and then it starts to become more of a focus."
Some of his teammates would be wise to heed such advice.
- APNZ