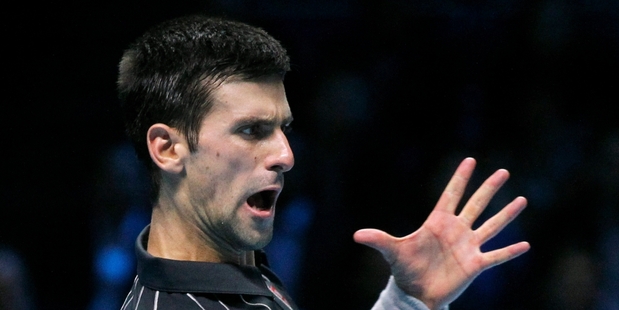 Novak Djokovic is eyeing another Davis Cup win, but it is the fitness of teammate Janko Tipsarevic which could prove crucial when the final against the Czech Republic starts in Belgrade tomorrow.
After sweeping aside world No 1 Rafael Nadal in straight sets in the ATP Tour Finals on Monday, second-ranked Djokovic illustrated how determined he is to beat the defending champions in his home city.
"God knows if we're going to have as a country another opportunity like this to win a Davis Cup title at home," said the 26-year-old, whose country won its only Davis Cup title in 2010 beating France 3-2, also in Belgrade.
In Belgrade, few have doubts that the trophy will return to Serbia - giant posters on the arena advertising the tie scream "Povratak trofeja", or "Return of the Trophy".
But while Djokovic is widely expected to grab two points from his singles rubbers, the rest is in the air with Tipsarevic, ranked 36 in the world, desperately trying to win his battle to recover from a heel injury.
Missing world number 76 Viktor Troicki over a doping ban, Serbia captain Bogdan Obradovic will also have doubles specialists Ilija Bozoljac and Nenad Zimonjic to hand.
The fourth name remains unknown as Tipsarevic attended Wednesday's press conference alongside 117th-ranked Dusan Lajovic and lower-ranked Filip Krajinovic and Boris Pashanski.
The Czechs, playing their third Davis Cup final in five years, lifted the trophy last year after beating Spain in Prague.
They defeated Argentina 3-2 in this year's semifinals - their eighth straight Davis Cup victory - while Serbia saw off Canada by the same score in Belgrade.
The team relies on the chemistry between world number seven Tomas Berdych and 44th-ranked Radek Stepanek.
It also includes 47th-ranked Lukas Rosol and 104th-ranked Jan Hajek.
Berdych and Stepanek teamed up in 2007 and have since won 13 of their 14 Davis Cup doubles rubbers together.
The Czech Republic and Serbia last clashed in the 2012 quarter-finals, which the Czechs won 4-1 in Prague.
- AAP