Choosing when to retire is one of the hardest decisions for any professional athlete and, in the case of Sonny Bill Williams, it could come sooner than expected.
"Maybe after 2015 or 2016, that might be it," Williams says. "Sport's not everything, bro."
Sport is what has defined him, helped create brand SBW. It's what has turned the 28-year-old into a superstar and why media agencies from Asia, the Middle East and the UK - not to mention Australasia - are seeking interviews with him.
Some are interested in the news that he has a new girlfriend. For most, however, it's wanting to get a glimpse of what makes one of the world's best cross-code athletes tick.
Williams is one of the names and faces of the Rugby League World Cup. Fans wait in the cold for hours after games and training in the hope of snatching a picture or autograph.
It would be disingenuous to suggest he doesn't like a lot of the attention, but it also comes at a cost.
"It can be pretty draining sometimes," he says. . "But sport's not everything. I can't say I'm an important person just because people want to speak to me. It's just how the world is. We are only a blip in what goes on in this world. I'm at my happiest when I'm on the field and working hard, training hard, and earning the respect of my teammates. If you do that, you play good footy.
"You can get caught up in living a big life and being flashy and all that, which I probably did when I was a youngster, but when you keep things simple and worry about the little things, the things that matter, you will be all right."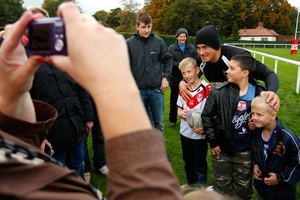 It's probably why he doesn't have any definite ambitions for when he retires - not that he lets on, anyway - and he won't become an "ex-player on a TV show bagging the new generation of players coming through".
"I would just be happy quietly raising my family somewhere."
There is still a bit to achieve before then, however, starting with the league World Cup and New Zealand's chances of defending the title they won in 2008 are infinitely better with Williams involved.
He was man of the match in their last outing, scoring three tries and clocking up nine tackle breaks and eight offloads in their 56-10 win over Papua New Guinea, and will be a handful for England and Australia if the Kiwis make the final.
He will then move on to trying for a second consecutive premiership with the Roosters in the NRL before switching back to rugby union in 2015 and staking a claim to make the All Blacks for their World Cup defence. After that, Olympic gold in sevens appeals.
Then, maybe, retirement from league or rugby. He would be 31 by the end of the Olympics, 13 years after he became a sensation when he won an NRL title with the Bulldogs and made his Kiwis debut. He has shown incredible durability throughout his career but it's likely he wants to go out on top rather than fading away.
Nothing, though, is ever guaranteed with Williams until it's official and even then, as Tohu Harris found out, he can change his mind.
Boxing is the wildcard. He accepts he's "never going to be no heavyweight champ", but talks only about how he has given up pugilism for the next three years so he can put all his energies into league and rugby.
Few would bet against him achieving his ambitions because success has followed him everywhere. And what about after sport?
"I just want to be happy, in the end," he says. "When I'm happy and my family is happy, I'm at my happiest. I know the biggest thing for me when I left Australia [in 2008] and went to France is that I grew up as a man and learned sport is not everything in life.
"There's a lot of talk about legacy and this and that, but I don't really care about all of that. I just want to achieve and play good footy and get the respect of the teammates I am playing with. If I do that, I know I am playing good footy and everything else will fall into place.
"It's not all about legacy. It's about being happy. It's about not looking back on my career with any regrets."
- APNZ