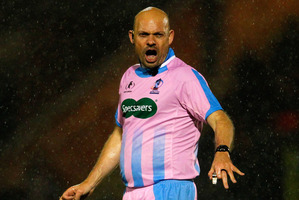 A few things seem to be coming together for New Zealand at the World Cup, not least the refereeing.
The standard of refereeing at this tournament has been ordinary and the fact there is only one referee, as opposed to the two used in the NRL, is helping the Kiwis. The game is a lot slower than we see in the NRL, where referees tend to be on the same page, and it suits both New Zealand and England who have big packs. Any time the game is slowed down, it gives the big boys a chance to recover.
This also happens every time the whistleblower goes to the video referee, and they go often. It takes an age for them to make a decision and quite often they come up with a bewildering one.
I don't like Northern Hemisphere referees. Normally they go with neutral men but I would like the best referees appointed later in the tournament regardless of nationality. Too much is at stake.
We have already seen some weird decisions and it has left players and coaches confused. It can make a game a lottery.
But the way the referees are controlling things probably unsettles Australia more. They have a more mobile pack and would like to play fast, flowing football and that is being stifled a little. I like two referees being used in the NRL but I would rather they had one good one at the World Cup than two who rule things differently.
The Kiwis seem to have been able to adapt to momentum well so far at the World Cup. They have produced the best 40 minutes of any team at this competition and I like the way they are trying to play structured, disciplined football. It's about building pressure. They could have easily fallen away from the game plan in the early games because they won easily. But they are trying to build the combinations that will be crucial.
I'm sure Frank Pritchard would have been rapped over the knuckles for his crazy offload against France, though the game was well and truly won.
The fact there is really good competition for places makes the coach's job easier. Players know they have to perform or someone is there to take their spot and, as a selector, it's intriguing.
Kevin Locke is getting a start at fullback tomorrow morning against Scotland but I still see Josh Hoffman as the No1.
Hoffman is excellent at cleaning up at the back and rarely makes a mistake, which is crucial in the wet, and is also a good support player.
Even if Locke has a good game against Scotland, I still can't see him forcing his way into the squad to face England next weekend.
At least we are talking about selection issues and not off-the-field ones like Australia. Coach Tim Sheens has expressed his disappointment following the Billy Slater incident and it takes the focus away from what they are trying to achieve.
I don't know if any of the Kiwis have been out until 3am but they look focused. It probably helps they are moving around so much because there's less time to get bored.
It's just another thing working in our favour. So far so good.