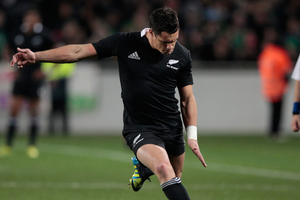 The Herald caught up with the radio voice of New Zealand rugby, Nigel Yalden, before this weekend's test.
I've been very fortunate to be able to commentate in some of the great rugby stadiums around the world, but the electricity rippling around Twickenham during that encounter last year will live with me forever. Given that this encounter has been slowly charging since December 1 last year, I expect the atmosphere to be immeasurable when the test gets under way.
The All Blacks need to strike early because their best performances this season (France at Christchurch, Australia in Sydney and Dunedin, South Africa in Johannesburg) have come when they've scored a try in the first 10 minutes. A similar early strike against England will lead to the type of result they want, in order to help purge the memory of 12 months ago.
England's biggest challenge is mental. This current English side has all of the physical tools to be a great rugby team, but mentally there remains a question mark.
England's failure to fire a shot in what was essentially a Six Nations final against Wales in March reeked of stage fright and having done so 12 months ago, the expectation to beat the All Blacks at Rugby HQ will come with a pressure quadrupled by 2012 standards.
The All Black scrum must stand up and be counted because just like Argentina and France, England take an immense amount of pride in their ability to scrum. Victory in this area would be a major dent to the English game plan. Twickenham's surface will be at its near flawless best and one of the best referees in Craig Joubert will be officiating, hence no excuses will be tolerated.
Daniel Carter will be exceptional in his 100th test. Every year since his impressive debut in 2003, Carter produces at least one virtuoso test performance when he orchestrates proceedings. Recent examples include the 2010 tests against Wales in Dunedin and Cardiff, France in pool play at RWC 2011 and La Plata, Soweto and Edinburgh last year. This year he has rarely got out of second gear in another international campaign punctuated by injury, but the signs are there, in training, that the maestro is building towards a performance befitting his standing.
• Nigel will call the game live from Twickenham on Radio Sport on Sunday.