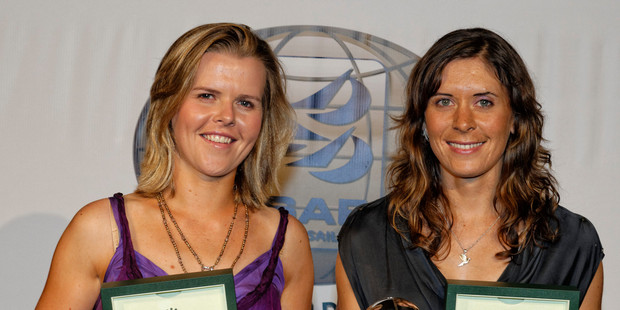 Olympic champion sailors Jo Aleh and Polly Powrie are the first New Zealand women to be honoured with the ISAF Female World Sailor of the Year title.
"I'm a little bit shocked," said Aleh. "There were some amazing nominees this year and we are delighted to be part of this. We feel honoured to be part of the group."
"We haven't done this alone and we had some wonderful people behind us who have been truly supportive," added Powrie.
The ISAF World Sailor Awards were launched in 1994, and just three other New Zealanders feature in the previous winners list. They include Sir Russell Coutts who has won ISAF Male Sailor of the Year twice, in 1995 and 2003, Mike Sanderson in 2006 and Sir Peter Blake in 1994. Leslie Egnot and Barbara Kendall were finalist nominees in 1995 and 1999 respectively.
"It's been a pretty big year for us," said Aleh. "We went into it to try and do it a bit differently and we did some different events.
It's been a very busy year and we've fitted in a lot. We're pretty happy that we finally ticked off that World Championship, that was really good, and we've been learning all year and having fun."
Powrie added: "We were super happy to win and there was a lot of relief we'd finally managed to do it. We'd done a few 470 Worlds before that and to finally tick it off, for us that was our goal this year and we're happy we achieved it. Next year will probably be a bit different as this year was a bit busy so we'll have to tone things down and concentrate more on 470 sailing and obviously we've got Olympic selection next year and that's a massive hurdle to get through. From there it's a similar programme with World Championships and World Cups through to Rio."
The other finalists were Deneen Demourkas (USA) - Farr 30 2013 World Champion, Erika Heineken (USA) - Kiteboarding 2012 Course Racing World Champion and Raiya Al Habsi (OMA) - First Omani Woman To Sail in the Rolex Fastnet Race.
Australia's Mathew Belcher was named 2013 Rolex ISAF Male Sailor of the Year.