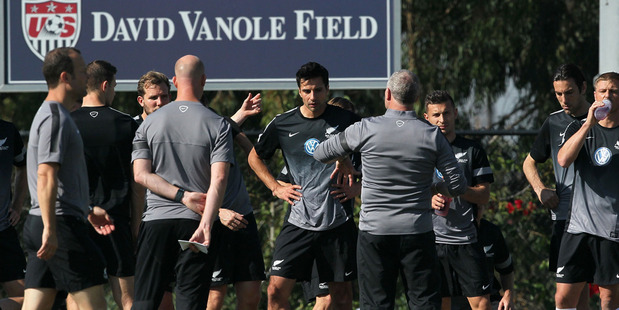 In the case of a sporting miracle today, where the All Whites achieve a draw or even win, special plans have be put in place to ensure the team's safety for the rest of their stay in Mexico City.
Anything less than a Mexican victory looks highly unlikely, but the New Zealand team are preparing for the worst should the best happen.
If Mexico don't win tomorrow, their hopes of qualifying for the 2014 World Cup will be on a knife edge. They are already wary of the long trip to Wellington and the adverse conditions they may encounter there, while the New Zealand side would be on an incredible high heading into the home leg.
In that case, chaos will erupt around the Stadium and the city. Right now in Mexico nothing else matters. The game has covered the front and back pages of the newspapers for the last few days and is the primary topic of conversation on television and radio and on the streets.
With so much expectation on this game, after the awful results of the last six months and being minutes away from being eliminated altogether from World Cup qualification, today is a homecoming, a revival.
Police are anticipating riots if the unthinkable happens and El Tri don't win. The anger will be directed almost totally at the Mexican team and Federation - there is already a palpable simmering discontent among many locals - but it still won't be a good place to be a New Zealander.
In that case, the team has been told they will have to remain in the stadium for several hours after the end of the match, possibly more, as it won't be safe to leave.
They have also been given drills by their former SAS security manager on what to do if their team bus is attacked by rocks, stones or bottles.
"We have been told to stay low and all turn inwards towards the middle of the bus," said one All White. "That will help to avoid any broken glass or things that are thrown. We have to be prepared."
Up to 1,000 police and security personnel will be inside the Azteca Stadium today. The All Whites' bus will be escorted by six police cars, and that number will significantly multiply in the case of an adverse result (in Mexican eyes) tomorrow.