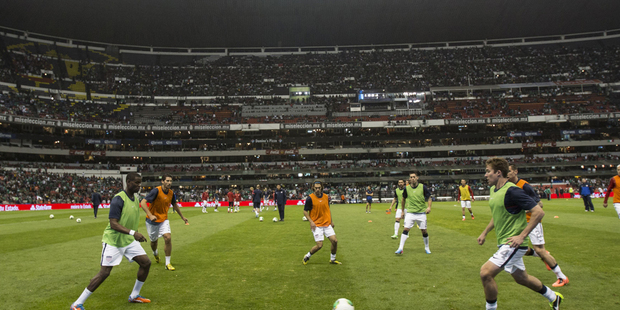 The Azteca Stadium, where the All Whites face Mexico tomorrow, is an arena every player wants to play in but it is also a place of physical and mental suffering.
It's not just the altitude, though the 2300m elevation makes it harder to breathe - and even think - as lungs gasp and muscles ache, especially if you are constantly chasing the ball.
The All Whites are playing in the early afternoon (2.30pm local time), when the air pollution is at its worst. It will be hot, with a cacophony of noise that few stadiums can match.
"It's a unique experience - and not often in a good way," says former All White Simon Elliott, one of the few New Zealanders to have experienced the Azteca. "The altitude, combined with the smog, is extremely tough. You feel like you are swimming a little bit or going through quicksand. That is why keeping the ball is so important; you don't want to be doing a lot of work without the ball."
During his stint at LA Galaxy (1999-2003) Elliott played several times in Mexico City.
"It's the whole package," he says. "The heat, the noise, the smog, the crowd ... it's a great place to play but you can suffer."
Tomorrow morning the All Whites will prepare in changing rooms that date from the 1960s. Across the corridor they will hear the Mexicans, psyching themselves up.
"It's a cauldron," says Elliott. "You come out from underneath and you are hit by a sea of fans ... the smell, the sweat and the noise."
Former American players have described seeing effigies of players burning before kick off in the grandstands. They talk about basketball size balls of straw being set alight and thrown from the stands, as well as bags filled with urine, batteries, coins and other projectiles.
There is no real danger - the field is a large distance from the stands and such incidents may belong more to another time (the 1980s), or be more typical of the intense cross border rivalry. But with what is at stake, intimidation - on the field and from the stands - won't be in short supply.