New Zealand can once again take a place at soccer's grandest table if they get past Mexico in their qualifying playoff. Victory will mean a third appearance in the finals, and the second in back-to-back tournaments. All that after a 28-year hiatus since John Adshead and his squad shoved open a door previously seen as unmoveable for New Zealand soccer. So what shape is the game in approaching a huge week for the sport in this country? In the first of a three-part series, the Herald looks at the state of the game in its developmental areas; and the pathways available to talented young players.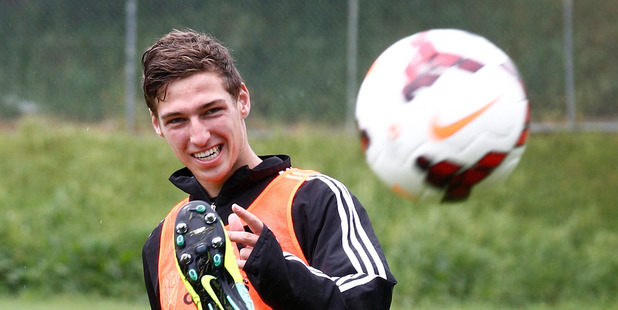 Matt Ridenton was probably much like many other youngsters growing up in that he dabbled in plenty of different sports.
But the New Zealand under-17 representative and fulltime professional at the Phoenix never doubted one thing: "I always wanted to be a professional footballer."
There's a clue in the surname. His father, Michael Ridenton, was an All White and now coaches the St Kentigern College First XI, winners of the national secondary schools championship this year.
Indeed, three members of that side - Nick Forrester, Michael Den Heij and Ridenton - went on to the under-17 World Cup in the United Arab Emirates last month. The squad included two other players with a footballing pedigree, Andre de Jong - son of former All White Fred de Jong - and Alex Rufer, son of another All White, Shane Rufer, and nephew of the country's finest player, Wynton Rufer.
Ridenton said he'd drawn inspiration from his father and wanted to follow in his footsteps, but said the choice of which sport to seriously pursue was his.
Ridenton and Rufer are clearly young players of distinct promise. But what if it was becoming obvious they were of an average footballing ability. Would the professional flame burn as brightly?
"It would definitely affect your thinking," Ridenton said. "Football is such a global game the hardest part is to become a professional. But I think I would still have had the desire to be a pro."
Ridenton threw up another name as an example of someone closer to home making encouraging progress. Ryan Thomas, a 19-year-old from Te Puke, is playing in the Dutch Eredivisie, or first division. He's playing for PEC Zwolle, a club whose manager Ron Jans has a reputation for giving youth an opportunity.
Just a few months ago Thomas was training at Wellington's Ole Academy before going to the under-20 World Cup in Turkey.
"Obviously he's extremely talented and in football it's what opportunities you get. And you need a bit of luck along the way," Ridenton said.
It's that bit of luck that can make a difference.
Danny Hay, at Sacred Heart, and Michael Ridenton are adamant the standards of Auckland's First XI competition are as high as they've been.
"I'd go one step further and say it's the strongest under-19 competition in New Zealand, without a doubt," Ridenton said. "We are leaving the rest of the country behind."
In his seven years at St Kents, just two boys have made the pro ranks - his son, and Liam Graham, who joined Italy's Serie A club Vicenza, is now with Ascoli, but undergoing rehabilitation from knee surgery.
For those with their heart set on playing for a living, no one said it's an easy career choice.
The series
Tomorrow
We take an in-depth look at the ASB Premiership which kicked off its 10th year last weekend. Is it meeting its initial objectives? We canvas opinions from those in the know. Plus a look at the women's game through the eyes of a current Football Fern.
Thursday
Over the next week New Zealand Football could pocket the biggest windfall in its history. But what has it done with the $10 million nest egg it got in 2009 for qualifying for the last World Cup?