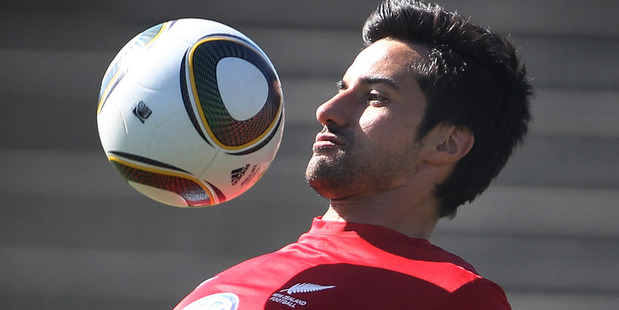 Rory Fallon is ready to make history once again.
Since that goal on the epic night in Wellington four years ago, Fallon hasn't been a regular in the All Whites. He's been absent for much of the last three years, at times almost forgotten. But in the best traditions of Winston Peters or Peter Dunne, who seem to materialise into prominence a few months before elections, Rory's back, just when it counts.
"It's been a long time but I have [also] had three years of just injuries," says Fallon. "It's great to be able to train and play without any pain. I feel like I have a new body so I'm enjoying myself."
He's hasn't been playing much at club level either, making just two appearances for St Johnstone in the Scottish Premier Division this season, as both starting strikers have been in form - "I've just got to wait my turn - that's the way it is."
The 31-year-old Fallon also waited a long time at international level. The former England age group representative was first called up by New Zealand in August 2009, scoring against Jordan on his debut.
He then famously headed home against Bahrain at Westpac Stadium but has only scored once for the All Whites since then and has a modest 15 caps to his credit.
One of the New Zealand's few advantages on Thursday is likely to be in the air, so the 1.91m striker could see some game time, most likely off the bench with Chris Wood the favourite to lead the line.
Playing at the Azteca Stadium and all that entails seems a formidable prospect but Fallon can't wait for the opportunity.
"That is what I have trained my whole life to do, play in these kind of games, these are the games you always remember," he says in his confident way. "It's one of my dreams to play at the Azteca, we are not fearing anything."