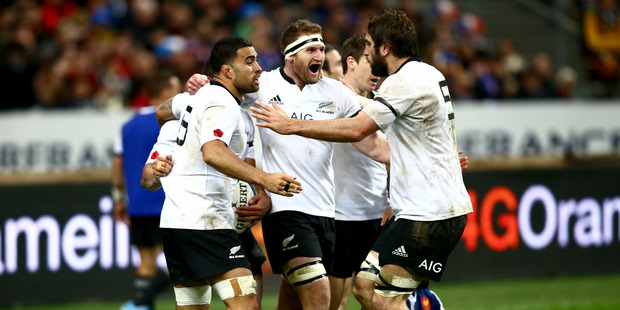 France were tough, resilient, creative and intensive and yet they might turn out to be a walk in the park compared with playing England.
The English were stodgy, uninspiring and clumsy at times during their 31-12 victory against Argentina. But it says plenty about their ability that they could win by that margin and still not play particularly well.
It says plenty in particular about their tight five - and the whole pack really - that they could subdue the Pumas quickly and easily. That part of the game was a resounding points victory for the English and the All Black forwards will be spending much of their week in London immersed in all sort of contact and cleanout work. A big part of the week will also be devoted to scrummaging as the blessed thing just isn't right.
Once again the All Blacks were second best in the set-piece. France had them. France pretty much owned them in that facet and England won't be any easier. They will probably, on the evidence of the weekend, be even harder. They look like they know what they are doing and the All Blacks' tight five face their biggest challenge of the year so far.
The Boks were a big assignment as were France. But England will be different again. Maybe that little bit harder.
England are probably the pick of the bunch. They are on average bigger than the French, yet just as mobile. They can scrum, they have ball carriers, they have tacklers, they have lineout men.
The All Blacks will have to work for every inch and they will have to work smarter, more cohesively and more intensely than they did in Paris. They made the point about the pitch cutting up and fingered that as the chief cause of their troubles. Maybe. But All Black coach Steve Hansen is hardly going into the real issues chapter and verse seven days before playing England - one of the best scrummaging sides in the world.
He and his fellow coaches will be scouring the footage to gather as much intelligence as they can about where things might be going wrong. They will already have some ideas.
Changing the personnel is not really an option. There is nothing between Owen Franks and Charlie Faumuina now but the former is better suited to starting. He's not high impact off the bench like Faumuina.
Andrew Hore will most likely come in for Keven Mealamu as part of the old man rotation and be asked to shore things up for 50 minutes.
But it's not going to be a test for shoring things up.
This game is going to need the All Black tight five to be at the peak of their craft.
It's going to need them to be ruthless and intense and blow English bodies away at the breakdown and hit them low and hard in the tackle.
They did that at times in Paris. Sporadic won't be good enough in London.