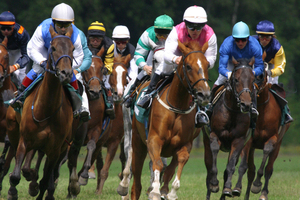 Horse racing isn't a science.
If it was we would have read the finish of Saturday's $400,000 2000 Guineas at Riccarton quite differently.
Which is why it's so much easier to be a grandstand critic of jockeys than it is to ride in a race.
We'd be saying Opie Bosson, on the winner Atlante, clearly outrode Matt Cameron on runner-up Chambord.
That Cameron went a touch too soon on Chambord - although he was bolting on the corner and looked as if he needed to sprint - and that Bosson held Atlante up when headed by Chambord until very late and sprinted past at the business end.
Thankfully, Bosson put us all right when he said, in effect, he didn't hold Atlante up at all, he simply couldn't ride the colt out properly because he was wayward in the mouth.
"He'd have won by five lengths if he'd run straight."
Chambord gives the impression the game is still a bit new to him, but being by Zabeel that is an element time will successfully take care of.
So, where does that leave us with rating the 3-year-olds after a race that is highly influential in final season-ending ratings?
It may be a tad premature to call, although if Bosson is right and Atlante can find a further five lengths it's going to put some pressure on the rest.
There is an interesting element in Atlante's pedigree with a view to whether he may or may not successfully run beyond Saturday's 1600m.
Fastnet Rock did not win past 1200m, although he has sired horses who have, including Atlantic Jewel.
Atlante's dam Readyforcatherine won six races up to 1300m and her dam was unraced, leaving foals that won at 1100m, 1200m and 1300m.
The third dam, Garden Flower, was a short-course 2-year-old winner only and her dam Water Lily had four Northern Hemisphere victories at 1000m. It appears not one horse in the female family has won beyond 1600m.
That may not be important at all.
Bart Cummings has always had two strong principles.
The first is: the most underestimated element in racing is patience.
It's free and no one uses it, he'd always say. The second: keep your horses happy. That second discipline - because that's what it is - was rarely more evident than in Precedence's timely win in Saturday's Queen Elizabeth Stakes at Flemington.
Yes, Cummings, 86 on Thursday, was disappointed Precedence missed out by one spot on making the Melbourne Cup for the fourth time.
He couldn't have won it. But it was clear a week or two back that he was almost certainly going to top his previous three attempts of twice just sneaking into the top 10 and one of just missing that lucrative cut.
The stable trained the 8-year-old Precedence differently this time. They gave him one less race heading into the Flemington carnival and he looked sprightly winning at Moonee Valley on Cox Plate Day.
That jink in his step was even more evident in the parade ring and more obvious again after the race. It's doubtful a fitter and happier horse came back to the birdcage over the four days than Precedence.
Like everything else the true master of training racehorses has done through five decades, this came down to something quite small.
Oh yes, and coupled with genius.